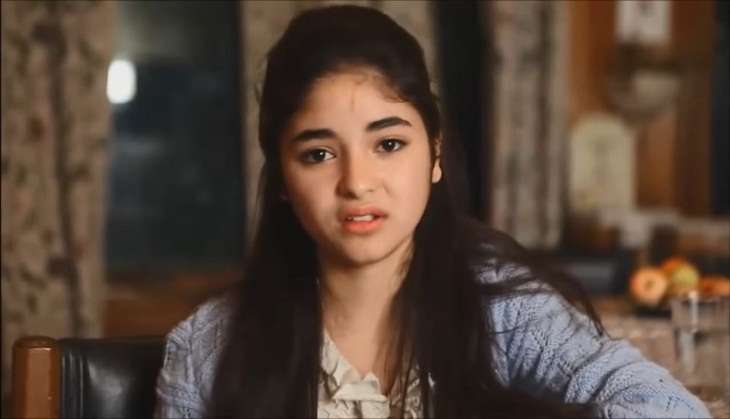 'Dangal' girl Zaira Wasim, who recently came out from one controversy, has landed in yet another soup.
This time, she has gone up for a war of words on Twitter, with Union Minister for Sports and Youth Affairs Vijay Goel.
The exchange began when on 18 January, Vijay Goel posted a photo from the 'India Art Fest' at Thyagraj Stadium here, on his Twitter handle.
The picture showed a painting of a woman in a hijab, which reminded him of the story of 'girls like Zaira'.
The minister captioned the image, which also featured the woman trapped in a cage, as, "This painting tells a story similar to @zairawasim. Pinjara tod kar humari betiyaan badhne lagi hai aage. More power to our daughters!"
However, the young girl from Jammu and Kashmir was not appreciative of the observations and put forward her thoughts boldly and clearly.
While the 16-year-old actress' first tweet was later deleted, the second and third were still available on her timeline.
One of her tweets read, "Moreover, the story depicted through this painting is not even remotely relevant to mine."
Meanwhile, Goel, making his point clear, insisted Zaira that she had misunderstood what he was attempting to say.
"You have interpreted wrong. I appreciated your work and stated that evil and patriarchal notions must be discouraged," the minister wrote.
"I'm afraid you still haven't understood. But I wish you all the very best and appreciate your work. Hope to meet & interact too," read his other tweet.
Earlier, Wasim issued an out-of-the-blue public apology letter for hurting the sentiments of people via her Facebook and Twitter account, however, the reasons of the her actions remain unclear and speculations are rife.
However, the reason for the apology letter is not very clear, but it is speculated that Wasim, who posted this note after being trolled on social media for meeting Jammu and Kashmir Chief Minister Mehbooba Mufti a couple of days ago and allegedly calling her as a part of her film's success.
-ANI