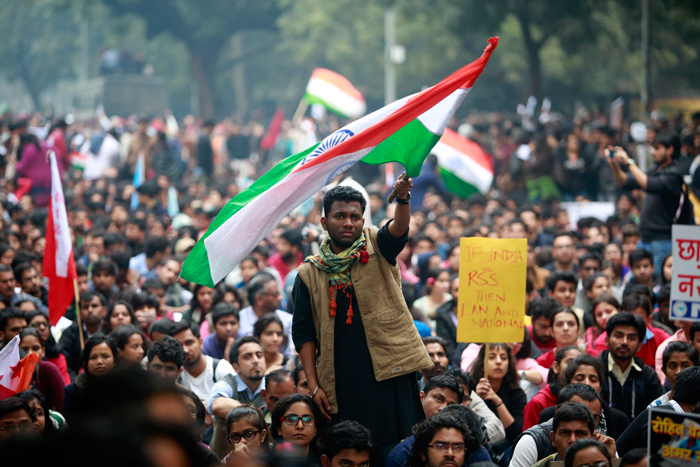 The streets of Delhi came alive on 18 February when over 10,000 protesters took to the streets to raise slogans in support of the Jawaharlal Nehru University. Teachers and students from various universities, lawyers, academicians, artists and activists marched together against the arrest of JNU students' union president, Kanhaiya Kumar, who is now in custody on sedition charges.
With JNU becoming the epicentre of a gargantuan protest, support is pouring in for the varsity not just from across the country but from around the globe.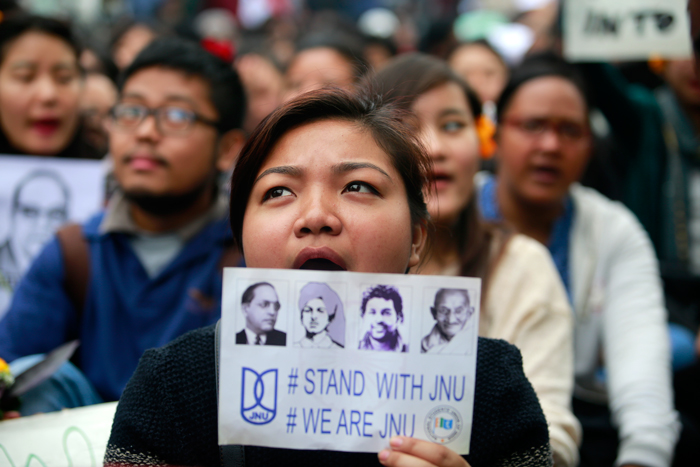 Not only have the protesters criticised the government for allegedly misusing the sedition law but have also slammed the police action in the university campus, the hooliganism at the Patiala Court premises.
Support from within the country
Students from Delhi University, Jamia Milia Islamia, All India Institute of Medical Sciences, Allahabad University, Hyderabad University, Aligarh Muslim University and various other institutes joined the agitation on 18 February.
In Delhi
Delhi University held a meeting to express support for JNU on 17 February. Hindustan Times quoted one of the event organisers, Gaurav Jain as saying, "Just because we have a union led by ABVP in DU doesn't mean we will keep silent. We can't let ABVP or BJP or RSS to dictate to us what to speak, issue us certificate on nationalism and assault us if we don't qualify".
The FB page of the event reads: "We can't let this happen to us. We must unite and stand firmly in support of JNU and its student's union President Kanhaiya Kumar. Because if we don't, the brute force of this government and other fascist elements would reach our campus and swallow our freedom to express our opinion without any fear and challenge the high and mighty."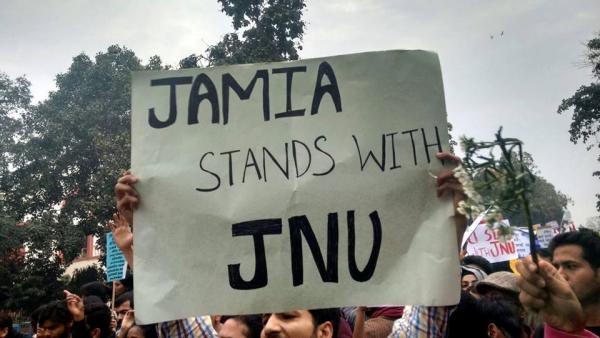 Hundreds of students from the Jamia Millia Islamia have backed JNU. A notice issued by the Jamia Teachers' Association reads: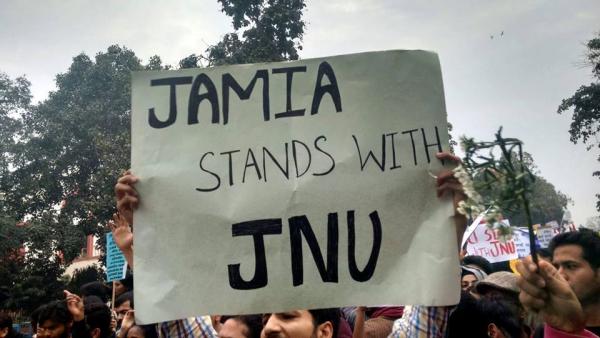 In West Bengal
In Kolkata, students of the Jadavpur University shouted slogans on 16 February and organised a torch rally to show solidarity with Kumar. The call for the rally was given by students affiliated to different Left parties but it resulted in a major controversy after the protesting students displayed placard in support of Afzal Guru and chanted slogans like 'Jo Kashmir Mange Azadi' "Jo Manipur ne Manga Azadi" and 'Jo Ishrat ne Manga Azadi'.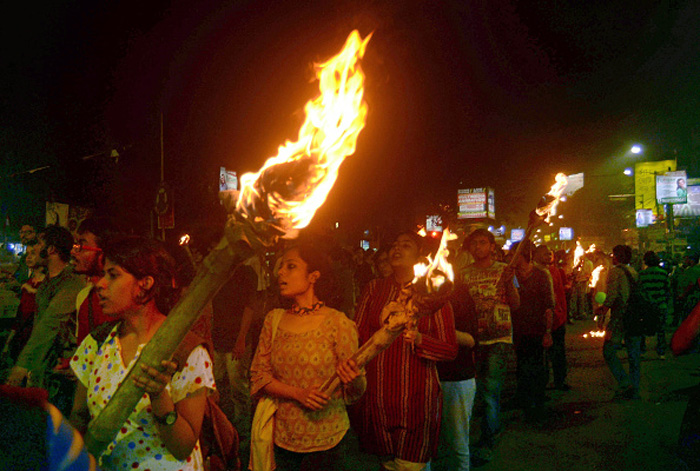 In a quick damage control measure, the placard was removed and students shouting slogans in favour of Guru were asked to refrain from doing so.
In Maharashtra
JNU received support from the Joint Action Committee of students formed in Mumbai University after the suicide of Dalit scholar Rohith Vermula. Many of the students expressed their anger by wearing black head bands.
"Students who have questioned capital punishment and hanging of Afzal Guru are being questioned by pseudo nationalists," the university's action committee said in a statement.
At the Tata Institute of Social Sciences in Mumbai students from the Radical Study Circle put out a statement which said that there is "a state of emergency" on the JNU campus and that this is a "criminal conspiracy" by the RSS, BJP and the student wing ABVP to "suppress student voices."
The Film and Television Institute of India released a statement, which read: "The current government had not learnt anything from the tragic death of Rohith Vemula and is continuing with the vilification, harassment and threat to those who dare to oppose its ideology," the FTII statement said.
In Kerala
Left-backed student organisations held a solidarity march in Kerala University on 15 February.
In Punjab
Students of Panjab University condemned police action in JNU. There were reports of a minor argument between the members of Students for Society and ABVP activists in the university campus when the former came out to protest against the arrest.
In Uttar Pradesh
The students of Aligarh Muslim University took out a protest march for immediate release of Kumar. Students from a technical education institute in Moradabad wore black clothes to describe JNU students as anti-national.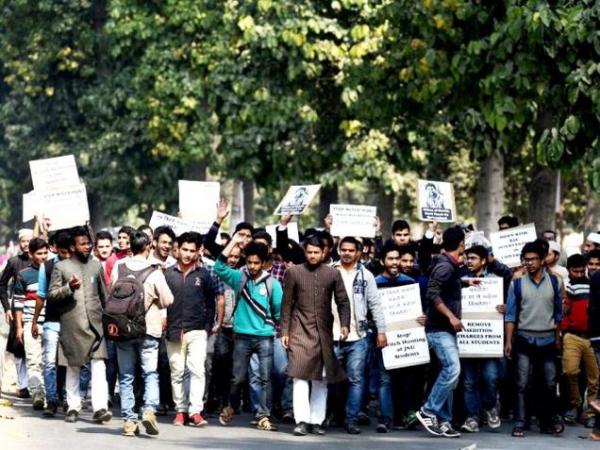 International support
Eminent academics from prestigious universities, including Noam Chomsky, Nobel Laureate and Turkish author Orhan Pamuk, and some 600 professors from the universities of Warwick (UK), Massachusetts Institute of Technology (US), Boston (US) have expressed solidarity with the JNU students and faculty protesting the government action on campus.
In separate statements, the signatories have also condemned "the culture of authoritarian menace that the present government in India has generated".
In a statement, academics at Warwick said the universities need to be places of academic freedom where dissent and critical thinking must not only be tolerated but should be actively encouraged. "We want to assure the students, staff and faculty of JNU that they are not alone in their struggle.
The American Anthropological Association (AAA), an organisation of scholars, students and practitioners said - "The AAA joins the voices from India and beyond and respectfully requests that the India state withdraws its sedition charges, release all arrested students and faculty, retreat from its hasty sweep of forces and restore normalcy to self-governing campus," reads the statement.
According to reports, students and professionals from various Boston-area universities, including Massachusetts Institute of Technology (MIT), Harvard University, Northeastern University and University of Massachusetts (Boston) and several concerned citizens turned up a Harvard Square in Cambridge to condemn the the police action against the JNU students.
- With agency inputs
Edited by- Blassy Boben