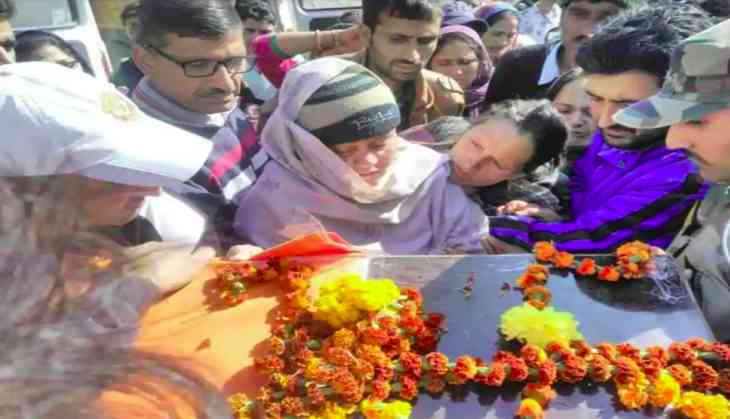 A shocking and heart-wrenching incident has come to light after Lance Naik Ranjeet Singh, who killed by Pakistan's notorious Border Action Team (BAT) Sunderbani area of Rajouri district on Sunday. However, he had to come to his village in Jammu and Kashmir's Ramban on Monday as he had taken two-month leave to meet his wife, who is pregnant. Alas! He didn't meet his family as his dead body returned to his family.
Meanwhile, his wife has delivered a baby girl just before her husband's last rites.
Soldier's wife with newly born baby (Twitter)
Ranjeet Singh was among the three soldiers who were killed by Pakistan's BAT in Sunderbani area of Rajouri district on Sunday in Jammu and Kashmir.
His wife Shimpu Devi got labour pains around midnight on Monday and then, she was rushed to the hospital, where she gave a birth to the baby girl at 4:15 am on Tuesday.
#JammuAndKashmir: A day after soldier Ranjit Singh Bhutyal lost his life in an attack by Pakistan intruders, his wife Shimpu Devi gave birth to a baby girl in Ramban. She says "I wish my daughter too joins the Indian army and serves the nation like her father." pic.twitter.com/uHKjP63zJ4

— ANI (@ANI) October 23, 2018
Shimpu Devi wished that her daughter becomes an army officer and also to be looked after by the army so that she gets full facilities before joining it as an officer.
After giving a birth to a child, soldier's wife visited the cremation ground at Seri Ghat on the bank of Chenab river and participated in the last rites of her husband. The duo got hitched in 2006.
Meanwhile, the last rites of the other two soldiers, who have also killed along with Singh, havildar Kaushal Kumar of Nowshera and rifleman Rajat Kumar Basan of Pallanwala in Akhnoor, were performed with full military honours at their native villages on Monday.