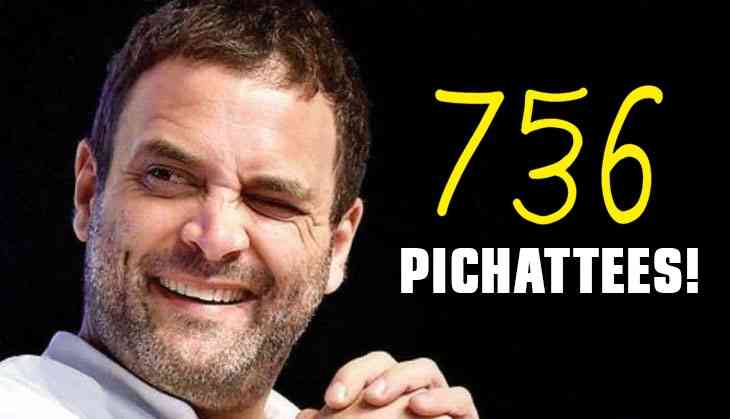 Congress president Rahul Gandhi, who is popularly known as 'Pappu' for his blunders and undigestable and unlogical speeches. Recently, in a public rally in Madhya Pradesh, Rahul Gandhi invented a new number that dragged him once again in front of Tweeple to roast him hard. Mr Gandhi's latest blunder he made is the discovery of Pichattis which obviously needed to be trolled.
As assembly elections have gear up in five states, Congress supremo Rahul Gandhi was speaking in a public rally in Madhya Pradesh. Rahul Gandhi was talking on the unemployment issues in the state when he went on speaking about the statistics of it he made a blunder.
Rahul Gandhi pronounced (Picheter) 75 as Pichattis and the invention happened. Not only once, but Rahul Gandhi wasn't able to pronounce the word twice and made the same mistake both the time.
75 + 36 = Pichhattis 🤔🤔🤔

Courtesy by Pappu's Maths Teacher @priyankac19 #PappuKiMaths #Pappunomics pic.twitter.com/G5gh2i9MCr

— Nation First Pinku (@imPk_Lucknowi) November 16, 2018
Earlier Rahul Gandhi invented a new counting term, "Dedh Lack Pachas Hazar" and now he found another "Pichattis Lakh". However, it isn't clear he wanted to say 75 ( pichhatar) or 35 (paitis). After this blunder, tweeple roasted him and an invention of new memes was done.
Here's how netizen reacted:
After "Dedh Lack Pachas Hazar" here comes another new counting term, "Pichattis Lakh" from @RahulGandhi. This man has his own parallel counting system.#PappuKiMaths pic.twitter.com/t0EinPbuYk

— Sandeep । ಸಂದೀಪ್ (@beingsandip) November 16, 2018
Teacher : If congress have 2 states and in 2019 they win 3 states then how many will be there

Me : Zero

Teacher : You don't know ur arithmetic

Me : Ma'm, You don't know Pappu 😂#PappuKiMaths

— Mr. 360' (@Mr_360Abd) November 16, 2018
So they played a game. And Rahul Gandhi wins it in a classic way😂#PappuKiMaths pic.twitter.com/WmtDSbj7N8

— Superstar Rajini😎 (@RoflRajanikant) November 16, 2018
if pappu was a math teacher..🤣 #PappuKiMaths pic.twitter.com/x1GfAGUEyC

— Dr. Laliya (@Lala_The_Don) November 16, 2018
Also read: Chhattisgarh Assembly Elections 2018 Live: 12.54% voting recorded till 10 AM in phase 2 polling; Ajit Jogi and his son Amit Jogi cast their votes in Pendra