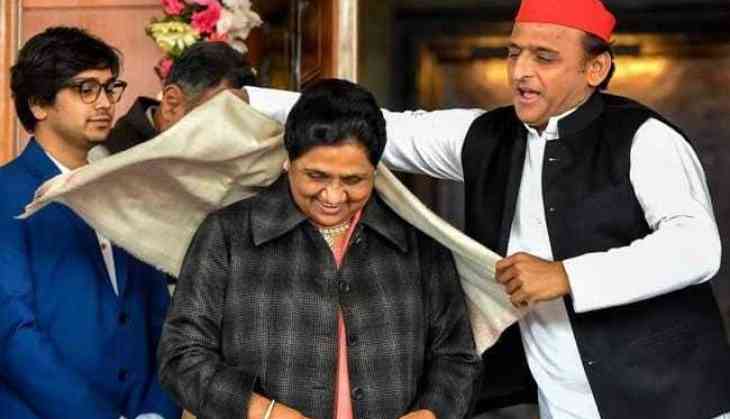 As Lok Sabha election is approaching the alliance of SP-BSP aka Bua-Babua in UP has given a sleepless night to the BJP. Not happy with the alliance, Uttar Pradesh BJP chief makes a sexist comment on Mayawati by invoking guest house scandal.
Mahendra Nath Pandey, Uttar Pradesh Bharatiya Janata Party (BJP) Chief shared a joke on the SP-BSP alliance from social media he came across and mocked duo leaders. He was addressing a public meeting in Chandauli.
UP BJP chief quoted Samajwadi Party (SP) chief Akhilesh Yadav as whispering to BSP chief Mayawati while putting a shawl across her shoulders on her 63rd birthday. Taking on Mayawati Pandey said "Ye wahi shawl hai jo pitaji (Mulayam Singh Yadav) ne guest house mein utaari thi."
Correction: Mahendra Nath Pandey is the Uttar Pradesh Bharatiya Janata Party Chief and not UP Minister as reported earlier. https://t.co/Hk25XzV8VH

— ANI (@ANI) January 29, 2019
Recently, Samajwadi Party (SP) chief Akhilesh Yadav gifted a shawl to Bahujan Samaj Party (BSP) chief Mayawati on her 63rd birthday and put it across her shoulder.
He shared the joke he came across on social media on their alliance and said. "Meine social media pe dekha ek naujavan ne post kar diya ki Shri Akhilesh ji, Maya ji ko shawl pehna rahe hain, Toh naujavan likhta hai niche –Akhilesh ke mooh se ki... ye wahi shawl hai jo guest house mein pita ji ne utara tha."
The BJP MP from Chandauli, Pandey, went on to say that the BJP has 'tested and rejected Mayawati.' "She cannot do anything, but has turned Akhilesh into a 'Babua'." Union Ministers JP Nadda and Manoj Sinha were also present at the event.
Also read: Ram Mandir-Ayodhya dispute: BJP govt moves Supreme Court, seeks excess land be returned to owners