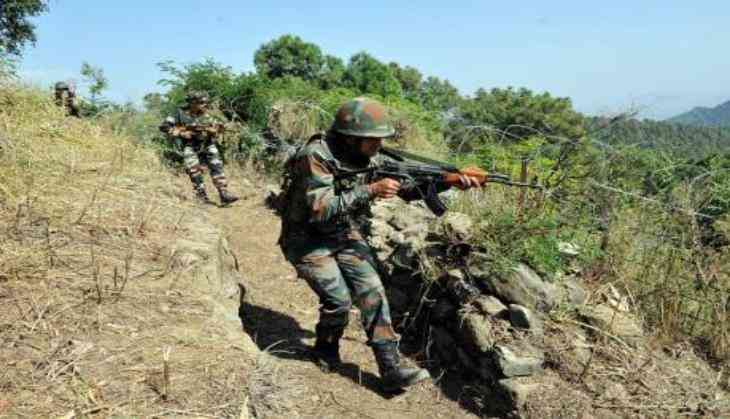 Four Pakistani terrorist showed up at a slow pace from behind the rocks on a grassy high grounds near the Line of Control (LoC) in Jammu and Kashmir. In less than a minute, one of the terrorist ran back towards protection as bullets were fired. Seeing him escape, three others also ran their way back in the middle of bullets shot by Indian Army from the post overseeing the hill.
All this can be witnessed in a clip released by the Indian Army.
The infiltration attempts took place on 30th July, a week before the Indian government revoked Article 370, As per the ANI.
The Indian Army has been vigilant along the LoC amid reports suggesting that Pakistan has been attempting to infiltrate huge number of terrorist into the Indian soil after the government's move on Jammu and Kashmir. Partial restrictions have also been impose in the valley.
Around 500 terrorist are in stand by in Pakistan to infiltrate into the Indian soil but the army is all set to hit back "at any level, any range, anywhere", army sources said on Monday.
AlsoRead:http://catchnews.com/india-news/smriti-irani-shares-touching-picture-with-family-son-zohr-jots-funny-comment-174252.html
Indian Army detected Pakistani terrorists near LoC in Kashmir's Kupwara sector on 30 Jul.Indian troops started firing at them as soon as terrorists were detected&forced them to return to their territory.They were attempting to infiltrate&carry out attacks on Indian positions. pic.twitter.com/WlKT9VF6Cd

— ANI (@ANI) September 27, 2019
Security agencies are alert to reports which suggests the probability of a major threat in the run up to the festive season. The threat perceptiveness is high this year than in the past.
Army Chief Bipin Rawat on Monday established that Pakistan recently have reactivated the terror camp in Balakot. Which was demolished by India in February after Pulwama attack which killed 40 CRPF personnels.