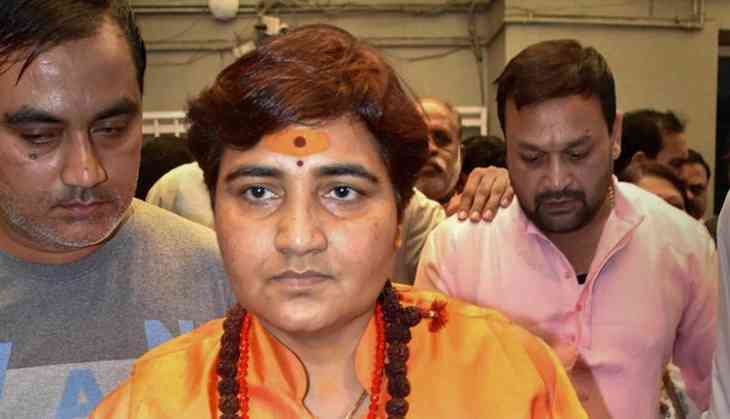 Bhartiya Janata Party candidate from Bhopal constituency Sadhvi Pragya Singh Thakur has made a controversial statement on 26/11 Mumbai attack hero late Maharashtra ATS chief Hemant Karkare, saying 'she had cursed him and he died.
"I had told him you will be destroyed, and he was gone in less than two months," said Sadhvi Pragya, a 2008 Malegaon blasts prime accused. Hemant Karkare, late ATS chief had died fighting terrorists during the 26/11 Mumbai attack, in which 166 people were killed.
Hemant Karkare had investigated charges against prime accused Sadhvi Pragya Singh in the blasts in Malegaon in 2008.
#WATCH Pragya Singh Thakur:Maine kaha tera (Mumbai ATS chief late Hemant Karkare) sarvanash hoga.Theek sava mahine mein sutak lagta hai. Jis din main gayi thi us din iske sutak lag gaya tha.Aur theek sava mahine mein jis din atankwadiyon ne isko maara, us din uska anth hua (18.4) pic.twitter.com/COqhEW2Bnc

— ANI (@ANI) April 19, 2019
"The investigation team called Hemant Karkare and said if you do not have evidence, let her go. He said, 'I will do anything to get evidence against her. I won't let her go.' This was his hatred (kuteelta). He was anti-national. He was dharm virudh (anti-religion). You won't believe, but I said, 'tera sarvanash hoga (you will be destroyed)'. Just after 'sawa' month, terrorists killed him," said Sadhvi Pragya to reporters on Thursday.
Reportedly, Karkare was the first officer to probe the Malegaon blast that happened of September 29, 2008, in which six people were killed and 101 injured. Lt Col Shrikant Purohit, Sadhvi Pragya and others were held and were charged with plotting the blasts.
In 2015, Sadhvi Pragya who is prime accused in the Malegaon blasts case was given a clean chit by the National Investigation Agency (NIA), but the trial court refused to let her off. NIA said they have no evidence against Sadhvi Pragya.
Also read: Priyanka Chaturvedi joins Shiv Sena, hours after quitting Congress as 'AICC Spokesperson'