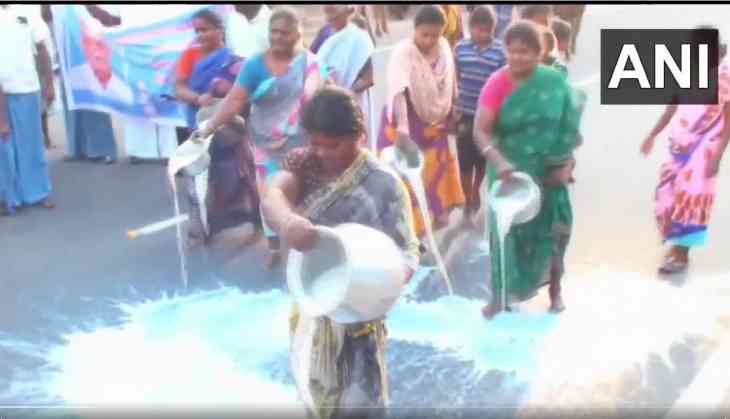 Dairy farmers held a protest in Madurai's Usilampatti town on March 20 demanding an increase in milk procurement prices. To draw the state government's attention and express their frustration, female protesters poured milk on the road.
They also blocked the road and raised slogans against the MK Stalin-led state government.
#WATCH | Dairy farmers in Madurai's Usilampatti throw milk on the road during their protest against the Tamil Nadu government demanding an increase in milk procurement prices pic.twitter.com/E1ARrm9Rv1

— ANI (@ANI) March 20, 2023
Similar protest was seen in Erode on March 17 in which the dairy farmers poured milk on the road and demanded increase in milk prices.
The farmers in the state of Tamil Nadu are demanding a raise of Rs 7 per litre for milk procured through the government-run Aavin. They are demanding Rs 42 per litre for cow milk and Rs 51 per litre for buffalo milk.
The dairy farmers are also demanding a 50 percent subsidy for cattle feed. TNMPWA, also known as Aavin, supplies milk to the Tamil Nadu Cooperative Milk Producers' Federation Limited. It has said that the strikes will continue until an agreement is reached with the government.
Also Read; Parliament: Lok Sabha, Rajya Sabha adjourned till 2 PM amid ruckus