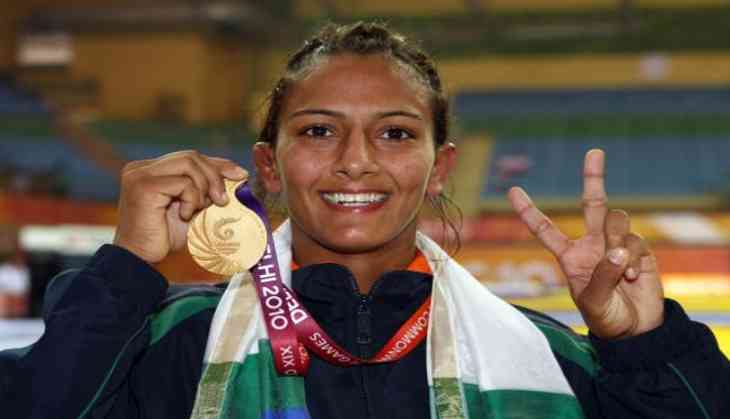 Veteran Indian wrestler Geeta Phogat says the razzmatazz of a Bollywood blockbuster on her life and a prolonged injury break took away her focus from the sport and she is now trying to recover lost ground.
Geeta and Babita Phogat, both Commonwealth Games medallists became household names after their life story was brought alive on the silver screen in blockbuster 'Dangal'.
However, the two wrestlers haven't been in the best of forms for a while now with injury still keeping Geeta away from action.
"I think staying away from wrestling for two years with injury and the movie, I lost my focus. Now I am concentrating just on wrestling," Geeta said on the sidelines of the launch of JSW's Inspire Institute of Sports here.
The 29-year-old scripted history by becoming the first Indian woman wrestler to qualify for Olympics in 2012. However, she was axed from the national camp ahead of the Asian Games owing to disciplinary issues. She had also claimed a gold medal at the 2010 Commonwealth Games in Delhi.
"My comeback on the mat hasn't been good. I am training hard to get back into the team. No sport is easy, if you spend time away it will be difficult to make a comeback," she said.
Asked about Indian wrestlers' Asian Games campaign, Geeta said she expects women grapplers to return with more medals than last time.
"Women wrestlers got only two (medals) last time but their performance has been good. I observed them in the national camps. Vinesh, Sakshi, and Pooja they seemed confident. This time they will get more medals," Geeta said.
The 14-member Indian wrestling contingent will be spearheaded by Commonwealth gold-medallist Vinesh Phogat and Olympic bronze-medallist Sakshi Malik.
"The team has prepared well, both the women and men have performed well at recent tournaments.The confidence level of the team is also very high."
Indian wrestlers will look to replicate their performance at Gold Coast, where all 12 grapplers returned home with medals.
Bajrang Punia, who won gold medals at the CWG, Tbilisi Grand Prix and Yasar Dogu International, and two time Olympic-medalist and reigning Asian Games champion Sushil Kumar will also look to bag the yellow metal.
"Bajarang can definitely win gold. He has beaten good wrestlers during his wins at Spain and Turkey," Geeta said.
"Sushil is an experienced player, a big player. He may not be in good form now but sometimes we can't judge the potential from a single tournament. He has two Olympic medals and three golds in CWG. He has the confidence I am sure he will do well," she added.
Geeta also lavished praise on sister Vinesh, who is in tremendous form, having won gold medals at the Commonwealth Games and Grand Prix of Spain ahead of the Asian Games.
"Her confidence level is the highest among all wrestlers. She is very focussed on training. She makes videos of herself training, analyses them, analyses her opponents. Recently in Spain not only did she win, she beat her opponent 10-0," she said.
Wrestling has gained popularity in the past decade in India and asked what has prompted this, Geeta said it's the performances that are driving the change.
"The mindset has changed now everyone goes with the aim of winning a medal, they believe they can win, earlier that wasn't the case," she said.
"We have regularly won medals at all tournaments and I think after 'Dangal', the craze for wrestling increased among the girls. Then Sakshi's medal definitely boosted the confidence," Geeta added.
(PTI)