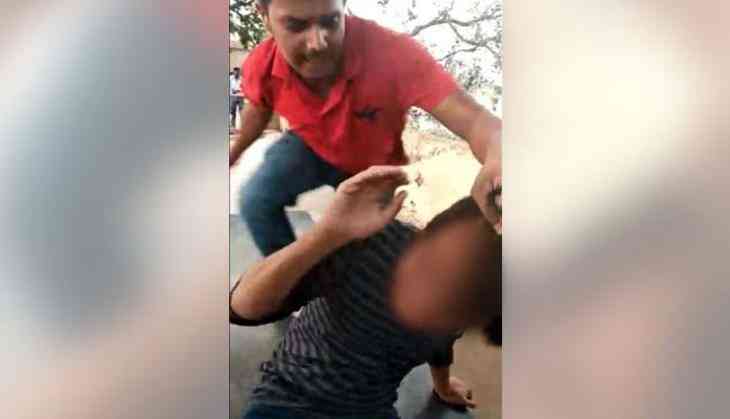 The communal hatred is creating worst situations in the country. Another Muslim man was being assaulted by a group of men over his friendship with a girl with different religion in Uttar Pradesh Kanpur. A youth from Kanpur district was brutally abused, threatened and beaten at a railway station platform for being in a relationship with a Hindu girl by right-wing Hindutva goons.
The incident, which took last week, came to light after a video showing 21-year-old Rizwan being beaten up went viral on social media on Friday, a Times of India report stated. In the video, it shows Rizwan sitting on a bench at Kanpur district's Barrajpur railway platform and being asked to narrate details of his relationship with a Hindu woman. As per reports, the youth had gone to drop the woman at the railway station.
Watch video here:
In the video, the men can be heard repeatedly abusing and assaulting Rizwan in Hindi, asking him to identify the woman's name and his own. "Tumhari Zindagi agar barbaad nahin kar dee to ham apna naam badal denge (we will change our names if we failed to destroy you)," can be heard in the video.
The man told that his attackers claimed to be members of Right-wing organisations. He said that he is good friends with the woman and had gone to the railway station to meet her after a long time, quoted NDTV.
They also threatened Rizwan to admit of being in a physical relationship with his Hindu girlfriend on camera as one of the men filmed him and warned him to share it with Bajrang Dal and "exposed" in media. The man is heard making pleas to leave him alone.
Rizwan is also known as Samir, a 21-year-old hairdresser from Rahmatnagar of Chaubepur village in Kanpur. According to the report, UP government confirmed that a case has been registered by government railway police (GRP) against four assailants, of which two have been identified as Mohan and Bhole Dubey.
"The matter was brought to our notice and probe has already begun. We will arrest all accused," UP Police spokesperson Rahul Srivastava told TOI.
Also read: West Bengal: Shocking! A Muslim was slapped and assaulted by four men in a moving train because he knew how to read 'Namaz' but not PM Modi; see video