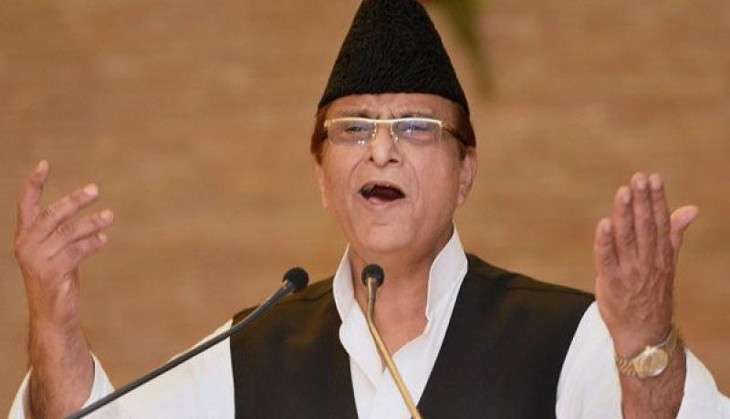 The decision to ally with the Congress in Uttar Pradesh is like choosing the "lesser evil" because of the need for secular forces to come together to take on the BJP, feels senior Samajwadi Party leader Azam Khan.
The UP Minister also took a dig at rival BSP, saying that giving 97 tickets to Muslim candidates is not enough and the Mayawati-led party should have given 403 seats to candidates from the community if it wants to woo it.
"In the laboratory of politics, there are experiments of political science...There was an experience in Bihar of a 'mahagathbandhan' (grand coalition). That experiment in Bihar had succeeded and there was a view among common people that there could be a coalition of like-minded secular people or people who are close to being secular or those who were once secular but because of political compulsions lost their way and again want to take that path, so those people should come together and contest elections," Khan told PTI.
He was asked about the Samajwadi Party's decision to contest the UP Assembly polls in coalition with Congress, a party which he has often criticised in the past and has accused of making false promises to the Muslim community.
Khan, who is the most prominent Muslim face of the SP, said the Muslim community has a long history of association with the Congress from the days of the freedom struggle and people including Maulana Azad, M A Jinnah and Allama Iqbal have been Presidents or prominent leaders of the party.
The Congress was even the champion of the freedom struggle and even 50 years after Independence, the Muslims stayed with Congress despite the fact that there some were big incidents, Khan said.
However, the Babri Masjid incident, the 'shilanyas' episode etc. did hurt and led to introspection as to whether the community had made a mistake by not going to Pakistan in 1947, he added.
"We are not giving (Congress) a clean chit. We are choosing the lesser evil," Khan said.
Asked to elaborate on his comment, the SP leader said it is lesser evil in a way that while he does not know what compulsions Congress may have had, but the "very agenda of BJP and RSS is against the weak, Dalits, backward and minorities."
Khan, however, added that this is not a time to discuss these issues and these questions could be answered better after the elections.
--PTI