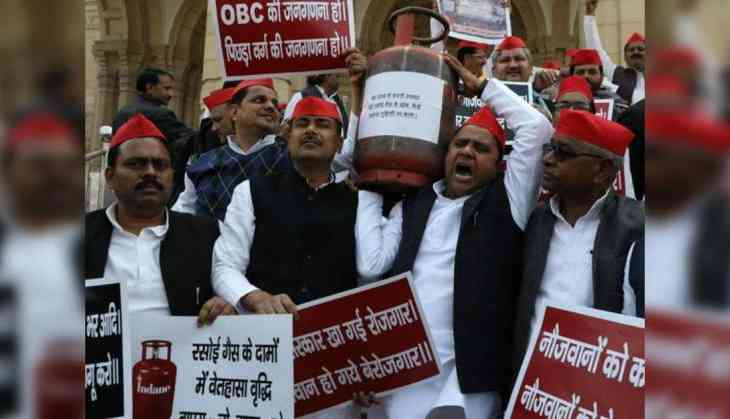 Opposition MLAs in Uttar Pradesh held up posters and raised slogans in the assembly on the first day of the budget session on Thursday, also bringing a halt to the Governor's speech over the Citizenship Amendment Act, law and order, unemployment and soaring rates of LPG.
Immediately after the Governor Anandiben Patel stood up to give her speech, MLAs, predominantly those of the Samajwadi Party, marched to the centre of the house and protested, some sitting down. Several of them held posters attacking the CAA and NRC, which has given rise to nationwide demonstrations with critics alleging that they are mechanisms to target the minorities.
Some MLAs even went on to carrycooking gas cylinders on their back. Uttar Pradesh Chief Minister Yogi Adityanath was seen in visuals watching the uproar.
The Samajwadi Party and Congress carried on their demonstration outside the assembly. Some of the Congress MLAs were even seen handing out tomatoes to rickshaw pullers as they protested against high prices.
Uttar Pradesh's annual budget, the BJP government's fourth, will be put forward on Tuesday.
Also Read: Naveen Patnaik richest among ministers in state with assets worth over Rs 64.26 crore
Also Read: Yogi Adityanath's paperless plan, likely to give iPads to his cabinet ministers