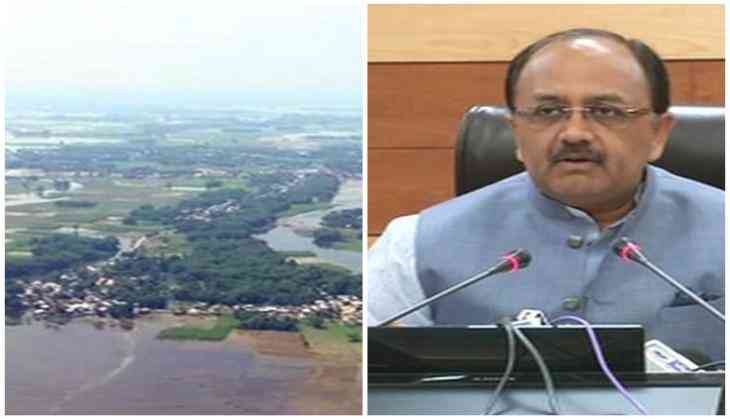 Uttar Pradesh Health Minister Siddharth Nath Singh on 26 August said that the state government is taking all appropriate measures to provide relief and rehabilitation to people in flood-hit areas.
Addressing a press conference here, Singh said that officials of the Chief Minister's Office (CMO) have been in touch with senior officials of all flood-hit districts in the state via video conferencing and are being given regular updates on the prevailing situation on ground in these areas.
"We (CMO) has been in touch via video conferencing with the officials in the flooded districts. More senior officers along with Chief Secretary are undertaking regular visits and reviews. Close to 3050 villages and 25.3 lakh people have been affected by the floods."
Singh further said that as a remedial measure, one nodal officer has been appointed and designated with the task of keeping the state government informed about relief and rehabilitation requirements.
"There are 440 Bada Chowkis. Doctors and pharmacists have been asked to provide all necessary help. The Department of Revenue has created 948 posts. We have also created 319 mobile teams to work with the National Disaster Response Force (NDRF). Information about the medicines available is also being gathered via video conferencing. We have distributed 79.75 lakh chlorine tablets; 15.7 lakh Oculo-respiratory Syndrome (ORS), 7,888 anti-snake venom vials. Sufficient quantities of DTT have also been released for spraying purposes," he said.
The Uttar Pradesh health minister said that the state government is also being kept informed about water levels going down and added that clean-up operations are being done through the Panchayats at the district magistrate's level.
He said that the state government is aware of the possibility of disease-related infections spreading following the floods and steps are being taken to provide for immunization at the earliest.
He said all director and joint director-level appointed nodal officers have been instructed to file regular reports detailing jobs done and what other activities are to be done to ensure recovery from the floods at the earliest.
He also confirmed that the western part of the state is on alert to prevent any untoward incident arising out of yesterday's conviction of self-styled god man Baba Gurmeet Ram Rahim.
Meanwhile, state chief minister Yogi Adityanath is undertaking an aerial survey of the flood-hit areas of Varanasi district today.
-ANI