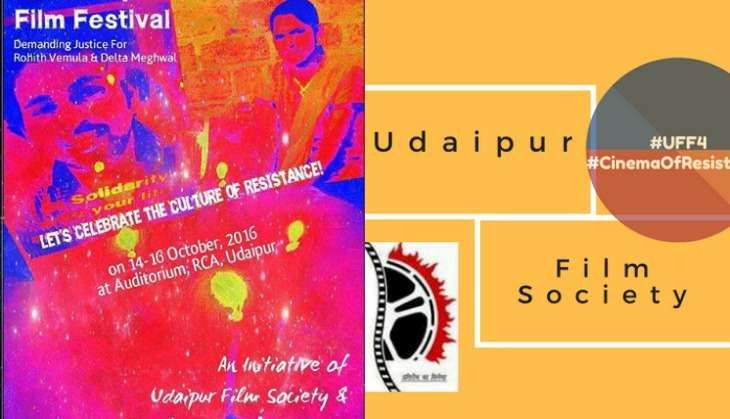 The Udaipur Film Society of Cinema of Resistance film festival kicked off on 14 October, amid protests from the Akhil Bharatiya Vidyarthi Parishad's (ABVP).
The fourth edition of the film festival, from the kitty of the Udaipur Film Society of Cinema of Resistance, is themed 'Demanding justice for Rohith Vemula and Delta Meghwal'.
The film festival - scheduled to be held at the Rajasthan College of Agriculture from 14-16 October - drew the ire of ABVP workers, who filed a complaint alleging that the organisers were "pointlessly holding discussions over the suicide of Rohith Vemula and murder of Delta Meghwal."
The complaint, filed on 13 October, said that the organisers under the umbrella of the film festival want to raise controversial issues and instigate violence among the students and youth.
In the light of the complaint, the Rajasthan College of Agriculture withdrew permission for the event to be organised at the varsity campus a night before the opening day of the festival.
With just a few hours to go for the festival, the organisers rushed to arrange another venue for the event. The film festival kicked off as planned on 14 October, at Udaipur's Vidya Bhawan Auditorium.
ABVP files a complaint to stop fourth Udaipur Film Festival (Photo: Facebook)
However, Sanjay Joshi, one of the organisers and National Convener of Cinema of Resistance, said that the team was undeterred by the developments.
"We are running a successful event with hardly any fall in the number of audience," he told Catch in a telephonic conversation.
"Such disruptions help us test our strengths and boost our morale. The incident made us realise what we are doing is important to the society," he said, adding, "It is a positive sign for cinema movement. A lot of people have joined us and are donating money for the movement to continue".
Appreciating his team Joshi said, "though we do not have bags full of money as we run on people's support and donations, we do have around 50 young men here who have helped us out."
Many independent film makers and others also raised their voices against the disruption of the film festival.
On 14 October, the film festival kicked off with Bob Dylan's 'Blowin in the wind' - a hattip to the Nobel laureate. The first film to be screened at the festival was Nakul Singh Sawhney's Kairana: After the Headlines - a documentary film that challenges Kairana MP Hukum Singh's claim of the exodus of Hindus from the Muslim-majority region.