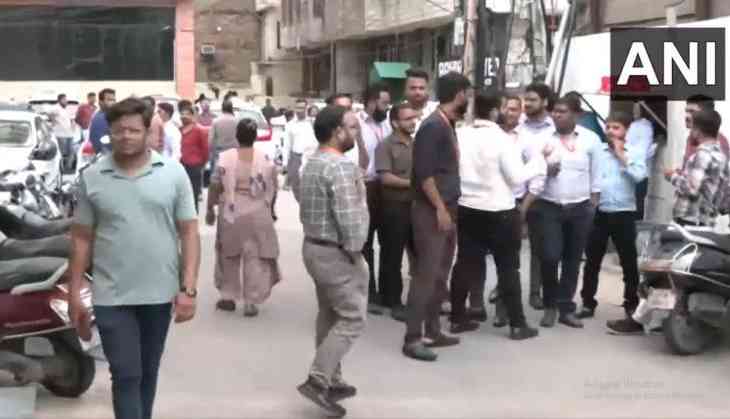 Two earthquakes hit Nepal, tremors felt in Delhi-NCR (ANI)
New Delhi: Earthquake tremors were felt in the Delhi-NCR region on Tuesday afternoon with some people coming out of their residences and offices for safety.
National Centre for Seismology said two earthquakes hit Nepal on Tuesday - the first had 4.6 magnitude on the Richter Scale that hit Nepal at 2:25 pm. The other measured 6.2 on the Richter Scale and occurred at 2:51 pm.
#WATCH | Delhi: People rush out of the office building as strong tremors of earthquake were felt across North India.

Visuals from outside the Asian News International (ANI) office in RK Puram sector 9. pic.twitter.com/wX1fyutNvp

— ANI (@ANI) October 3, 2023
"Earthquake of Magnitude: 4.6, Occurred on 03-10-2023, 14:25:52 IST, Lat: 29.37 & Long: 81.22, Depth: 10 km, Location: Nepal," National Centre for Seismology said in a tweet.
#WATCH | Uttar Pradesh | People rushed out of their buildings in Lucknow as strong tremors were felt in different parts of north India.

As per National Centre for Seismology, an earthquake with a magnitude of 6.2 on the Richter Scale hit Nepal at 2:51 pm today. pic.twitter.com/CDTEtKVhJy

— ANI (@ANI) October 3, 2023
#WATCH | Earthquake tremors felt in Khatima, Uttarakhand. pic.twitter.com/vzUterBau7

— ANI (@ANI) October 3, 2023
"Earthquake of Magnitude: 6.2, Occurred on 03-10-2023, 14:51:04 IST, Lat: 29.39 & Long: 81.23, Depth: 5 km, Location: Nepal," it added. More details are awaited.
(ANI)