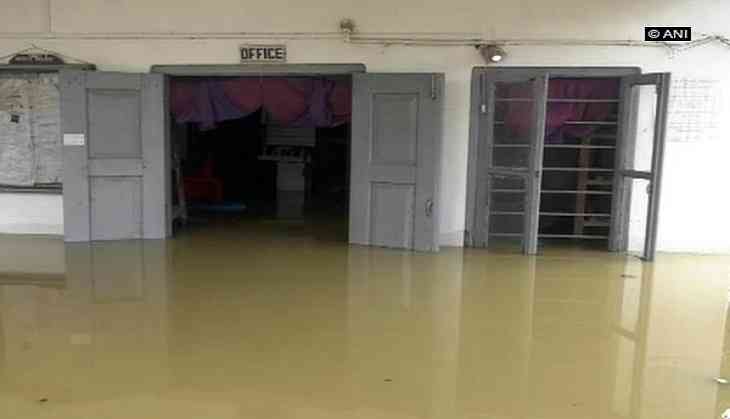 Incessant rains in India's northeast region triggered floods that have wreaked havoc across the region.
Several villages and houses were submerged and many were rendered homeless. In the northeastern state of Manipur, the water level of major rivers of the state was above the danger level and normal life came to complete standstill.
Relief camps have been set up across the state to rescue the affected people. In Assam and Tripura, the situation remained grim as incessant rainfall caused floods, landslides that resulted in the death of many villagers. In Mizoram, hundreds of families were affected and displaced due to massive landslides and flash floods in four districts including Aizwal.
The worst situation is in Assam as unremitting rainfall has triggered flash floods in various districts of both Upper and Lower Assam, leaving thousands of people in distress. Reportedly, Karimganj district has been the worst hit of all.
"As of today, around seven districts have been affected in the first wave of floods namely Hojai, Karbi Anglong (East&West), Golaghat, Karimganj, Hailakandi and Cachar. The total number of circles affected is 22 and the total number of villages affected is 668. A total of 178 relief camps have been set up across the districts by the district administration and ration have been distributed accordingly. As for now, no human lives are lost. Crops are affected largely and more than 71 people have been evacuated from Karimganj. Landslides took place in Kamrup Metro District and Dimasa is also affected. Roads and bridges are also affected but the situation is under control", said an official, Disaster Management Authority, Guwahati.
The situation in the northeastern province of Manipur was even shoddier as the water level of local water bodies was near danger level mark. Several houses were submerged in water and agricultural lands and farms were destroyed in the valleys. Educational institutes and government establishments were also affected. Hundreds of people were displaced in different areas as water entered their houses and they were seen making their way through the inundated towns by walking in waist deep water, carrying their belongings on their heads and on make-shifts rafts.
"I came out of my home early this morning, but there is too much of waterlogging, I don't think I will be able to make it. There is no transportation and all shops are closed because of this situation", a resident reported.
Meanwhile, Chief Minister Biplab Kr Deb carried out an aerial survey to take stock of the flood-affected areas and announced an ex-gratia payment of Rs. 5 lakhs for the families of the deceased. Expressing grave concern over the situation, Prime Minister Narendra Modi, while chairing the fourth meeting of the Governing Council of the NITI Aayog, assured the chief ministers of flood-affected states that the Centre would provide all assistance to them to deal with flood situation.
(ANI)