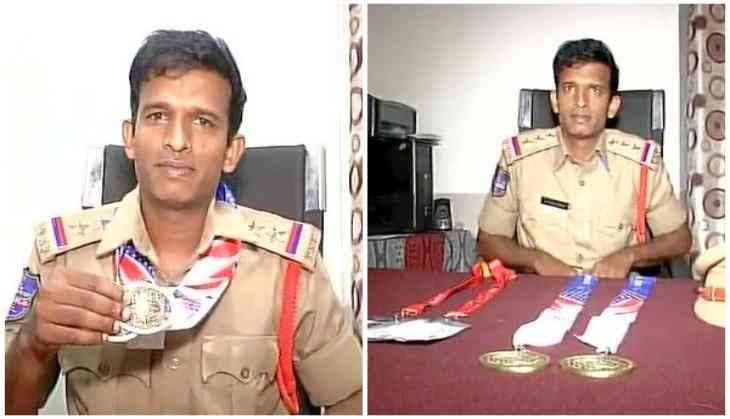 N Bose Kiran, an Inspector in Telangana police, bagged two bronze medals in the World Police and Fire Games 2017 in Tennis held at Los Angeles.
He said, "I represented Telangana state from Hyderabad police. I was the only player from the Telangana state to get a bronze medal in World Police and Fire Games held at Los Angeles in United States."
Bose Kiran is also a junior national tennis player from last 20 years and had experience in Tennis. However, for this tournament, he had been practicing since the last six months regularly and intensively in the morning at 5 am.
He said, "Being in the police department, it is difficult to get the time but our officers and the Commissioner of Police were very kind. I used to go to the stadium and practice and wherever I got the perfect place, I used to play tennis. I used to prepare mentally and focus on the services, I was having plans on how to play at the event and accordingly I adjusted and I got the result."
He also stated, "It was tough there as players from United States, Australia and Hong Kong were present and many upcoming police officers who have joined police participated in the tournament."
He won the bronze medal in 35 plus category in singles and doubles.
Bose Kiran said that his colleagues were kind enough to encourage him to play at the event and were supportive of it. It is a proud moment for Telangana State getting two bronze medals for the first time in the World Police event; it is prestigious for the State. The Commissioner of the Police, the Director General of Police and my officers has appreciated my efforts.
-ANI