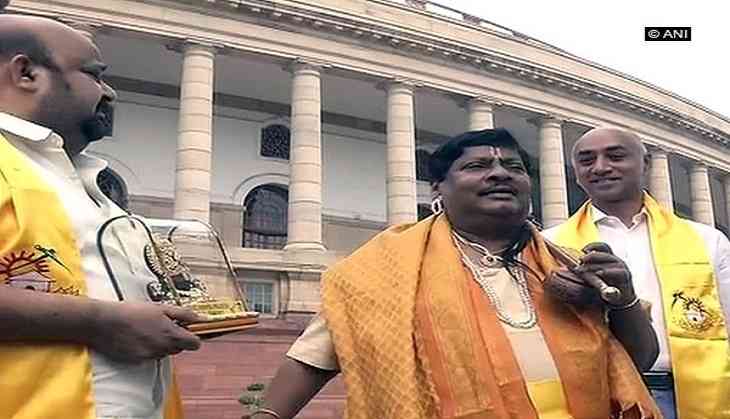 Telugu Desam Party (TDP) MP Naramalli Sivaprasad on Monday dressed up as Annamayya, a famous poet and devotee of Lord Balaji while protesting against the Centre over the demand of special status category status for Andhra Pradesh.
This is not the first time when Sivaprasad has donned unusual attire during the protest. Earlier, he had dressed as a woman, washerman, and a school-boy among others during the Budget session of the Parliament.
Meanwhile, TDP members are protesting both inside and outside the Parliament demanding Special Category Status to Andhra Pradesh and implementation of the Andhra Pradesh Reorganisation Act.
TDP MP also staged a protest (dharna) near the Mahatma Gandhi statue in the Parliament.
Speaking to ANI, TDP MP Jayadev Galla said that they are protesting as they cannot let their issues be unheard.
"After the no-confidence motion, all our issues remain the same. So, there is no option left for us but to continue protesting. Inside the house, we are discussing how to handle the issue in a responsible way, as a responsible opposition. But, we cannot let our issues remain unaddressed," said Galla.
He also said that they presented their case before Prime Minister Narendra Modi to which he did not pay much heed.
"We presented our case with clear facts and figures and questions to the Prime Minister, which he did not bother to answer. We have been hearing the same statements for the past several years. Focusing and exposing the injustice done to us and something we must do," he added.
TDP members protesting outside the parliament.
Meanwhile, TDP MP YS Chowdary has given a notice in the Rajya Sabha under rule 267 to discuss AP Re-organisation Act.
The Andhra's ruling party and Centre have been at the loggerheads for past few months over special status issue.
(ANI)