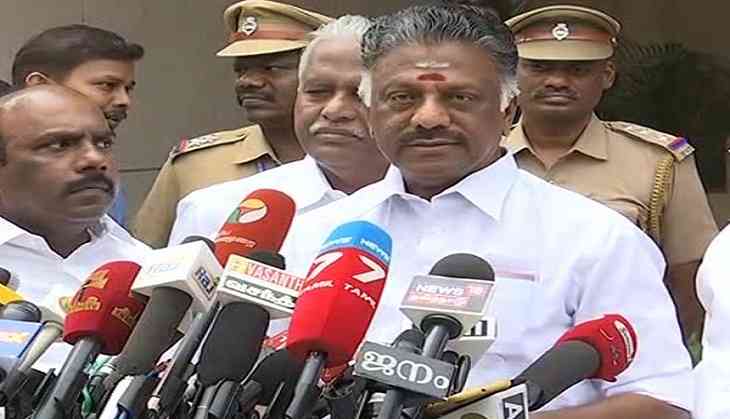 Tamil Nadu Deputy Chief Minister O. Panneerselvam (OPS) on 12 October dismissed reports about differences arising between him and Chief Minister E. Palanisamy (EPS).
"The talks of differences between me and Chief Minister are false. Both camps joined without any preconditions," Panneerselvam told media.
Certain reports had been doing rounds about a rift between them days after the OPS and EPS camps of the All India Anna Dravida Munnetra Kazhagam (AIADMK) party merged.
Panneerselvam was here in Delhi to meet with Prime Minister Narendra Modi, but denied having any discussion of political issues between them, even as months-long political turmoil in Tamil Nadu was expected to be a major part of discussion at the meeting.
The political turmoil in Tamil Nadu began soon after the death of chief minister Jayalalithaa on December 5 last year that broke the AIADMK party into factions.
In August, the warring camps of OPS and EPS merged in a show of strength, and dismissed jailed party interim chief, V.K. Sasikala in a council meeting.
Meanwhile, Sasikala's nephew T.T.V. Dhinakaran's sidelined faction challenged the move, and later went on to demand a floor test of EPS-OPS government.
On Friday, Sasikala, who was convicted in a disproportionate assets case, was granted five-day parole to visit her ailing husband M. Natarajan in Chennai.
The conflict is yet to be resolved as both factions stake claim over the two-leaves party symbol of the AIADMK.
Today, other AIADMK leaders like Munusamy, Manoj Pandian and Maitreyan also met the Prime Minister, wherein the recent outbreak of dengue in the state was discussed.
"The Prime Minister has assured to depute a medical team to look after the dengue fever outbreak in the state," Panneerselvam said, adding that the state government has assigned adequate doctors and medical staff to contain the outbreak.
-ANI