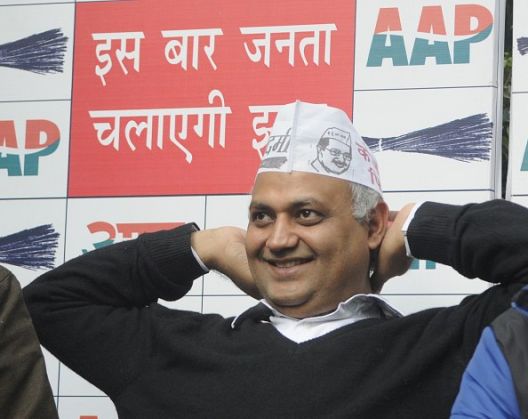 Delhi High Court has rejected the anticipatory bail application of Somanth Bharti. With this Bharti's arrest seems imminent.
Reportedly, the court took into account the fact that custodial interrogation of Bharti is very crucial for a fair investigation into the domestic violence case against him by his wife Lipika Misra. Also, Bharti has been accused of attempt to murder.
Mitra has alleged that when she was seven months pregnant, Don, Bharti's pet dog, attacked her and bit her in the stomach and on her private parts.
A few days back after being given a brief breather by the High Court, in a dramatic style, Bharti walked in to the police station handling his case with Don riding in the backseat of his Innova.
Bharti's lawyer Vijay Agarwal on Tuesday said his client would now move the Supreme Court.
"We will move the Supreme Court immediately. We said that it was a matrimonial case and so the marriage should not be broken down. If the husband goes to jail then the future chances of reconciliation gets marred. That's why we are hoping that court would consider it sympathetically," he said.
(With inputs from ANI)
Bharti was earlier named in an FIR filed under several Sections of the Indian Penal code (IPC), including domestic violence and attempt to murder.
Lipika has been married to Bharti since 2010, but has been living separately from him since 2012 along with the couple's two children in a rented accommodation in Dwarka