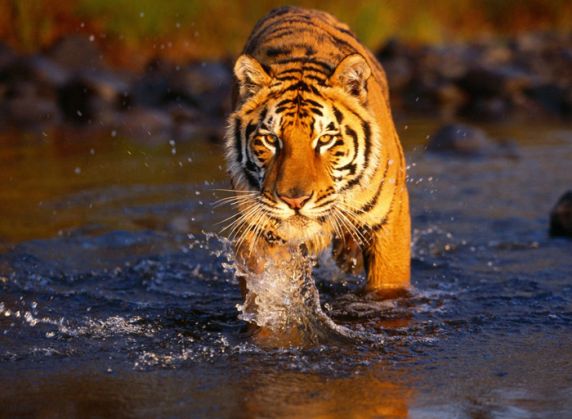 Solar lights have reportedly helped in reducing man-animal conflict at certain locations in the Sunderbans. The lights were installed by WWF-India as a part of project in the year 2008.
Sunderbans is known for man-animal conflict
Sunderbans is one of the most energy-deficient regions of the country. Due to the shortage of electricity supply, there have been numerous incidents of man-animal conflict which have been reported in the past few decades.Tigers and other animals stray into villages in darkness, killing or injuring the villagers.
Installation of lights
To help villagers tackle the problem, WWF-India took up a project in 2008 of installing solar lights in the region. The blocks covered under the project were the forest fringes of Kultali, Basanti, Gosaba and Hingalganj.
The sites were selected in consultation with the state Forest Department and based on WWF-India's field team surveys on tiger and other wildlife straying incidents and depredation of cattle.
To ensure security of the installed solar systems, WWF-India provided one home light connection to each of the individual households who were the immediate beneficiaries of street lights thus, making them accountable and ensuring safety for the systems.
Since the project started in 2008-2009, around 120 solar lights have been reportedly installed.
Effect on the conflict incidents
Ratul Saha, Landscape Co-ordinator, WWF India told PTI that after the installed not a single tiger straying incident or conflicts in these specific locations have taken place.
Change in socio-economic status
According to Saha, apart from helping in reducing man-animal conflict, the solar lights have also helped in improving the socio-economic conditions of the area. "Other than reducing man-human conflict, it has helped in increasing income in various families as they are able to work at night time," he said.
For 36-year-old housewife Siuli Mondal, the solar lights have helped her double her monthly income as she can do her Zari embroidery work at night."The work of Zari embroidery helps me earn living for my family. I used to sell the embroideries for Rs 200 and I could work on two sarees a week as my activities were restricted till day light. But, now I am able to work on five sarees per week as I can work at night too," Mondal said.