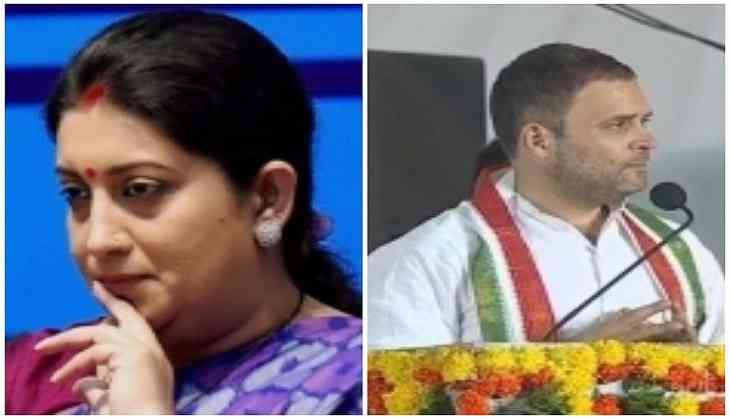 A day after Congress vice-president Rahul Gandhi slammed the Centre by digging out issues including the Rohith Vemula suicide case, Dadri lynching case and demonetisation drive, Union Textile Minister Smriti Irani on Saturday mocked the former for 'all that he does.'
Smriti took to Twitter to show her sarcastic side and said, "However, thank you @officeofRG for all that you do. Sincerely from the BJP!????"
However, thank you @officeofRG for all that you do. Sincerely from the BJP!🙏🙏

— Smriti Z Irani (@smritiirani) July 21, 2017
Yesterday, Rahul raised the Rohith Vemula case, saying that he didn't commit suicide and was murdered for being a Dalit.
"I don't call it suicide; I call it murder. Rohith (Vemula) was crushed and murdered by the indignities he suffered," said Gandhi while speaking at DR. B.R. Ambedkar International Conference.
He further added that Vemula was killed only because he was a Dalit.
Rohith Vemula, a PhD student at the University of Hyderabad, allegedly committed suicide last year sparking a nationwide outrage.
Vemula's suicide gained widespread media attention as an alleged case of discrimination against Dalits.
Rahul also alleged that most of the institutions in the country have been captured by Prime Minister Narendra Modi, the bureaucrats and the Rashtriya Swayamsevak Sangh (RSS).
"What is happening today is the systematic capture of India's democratic institutions by Prime Minister Narendra Modi, bureaucrats and the RSS," he said.
The Congress vice-president also targetted the Centre by raising the Dadri lynching case.
"Mohammad Akhlaq was butchered because they say he stole a calf. It was a lie. Instead of questioning his (Akhlaq) brutal killing they asked whether the meat in the fridge was mutton or beef," he added.
Last year, a mob of villagers attacked a 52-year-old man named Muslim man Mohammed Akhlaq, who they suspected of stealing and slaughtering a stolen cow calf, in Bisara village near Dadri, Uttar Pradesh.
Akhlaq died in the attack, and his son, Danish, was seriously injured.
Rahul also took a dig at the Centre over its demonetisation drive which was introduced on 8 November last year.
"Publicly they called it a stroke of genius and privately they called it insanity," he said.
-ANI