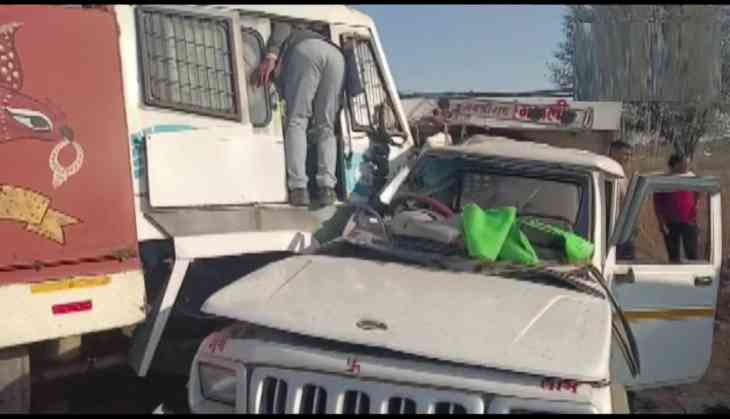 The death toll in the tragic road mishap in Rajasthan's Sikar district has increased to 12. The incident took place on January 1 near Maji Saheb's Dhani located on Palsana Road when a speeding pickup van collided with a bike and rammed into a truck.
The collision was so intense that eight people, including women, died on the spot and nine others sustained severe injuries.
"Eight people were killed and nine others injured in a road accident in Sikar district. The accident occurred near Maji Sahab Ki Dhani after a pickup hit a bike and rammed into another vehicle," said Ratan Lal Bhargava, ASP Sikar.
The speeding pickup truck lost control and hit a man and his wife who were on the bike. It then rammed into an oncoming truck carrying a drilling machine.
The deceased were the residents of Sikar's Chomu and Samod town. The accident led to a heavy traffic jam on the road which was later cleared by the police.
सीकर के खंडेला क्षेत्र में पलसाना-खंडेला मार्ग पर हुई सड़क दुर्घटना में 8 लोगों की मृत्यु अत्यंत दुखद है। शोकाकुल परिजनों के प्रति मेरी गहरी संवेदनाएं,ईश्वर उन्हें यह आघात सहने की शक्ति प्रदान करें, दिवंगतों की आत्मा को शांति प्रदान करें।घायलों के शीघ्र स्वास्थ्य लाभ की कामना है।

— Ashok Gehlot (@ashokgehlot51) January 1, 2023
Rajasthan Chief Minister Ashok Gehlot expressed condolences and prayed for the speedy recovery of the injured.
"It is very sad that 8 people died in a road accident on Palsana-Khandela road in Khandela area of Sikar. My deepest condolences to the bereaved family members, may God give them the strength to bear the losses, may the souls of the departed rest in peace. Wishing the injured a speedy recovery," CM Gehot tweeted in Hindi (rough translation).
Further details are awaited.