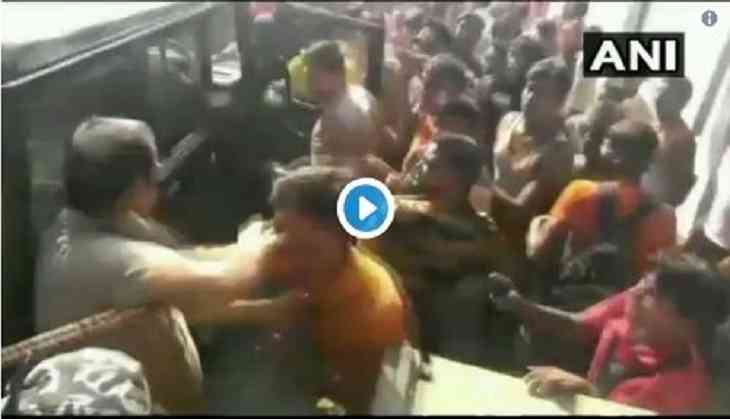 A shocking violence incident made by a group of kanwarias on 7th August has come to light from Bulandshahr, Uttar Pradesh. The whole incident was caught on camera which is getting viral now.
In the recorded video, it can be seen that a group of kanwarias were attacking a police vehicle after an alleged scuffle with locals in Bulandshahr. This has happened on the same day when a group of kanwarias vandalized and turned over a car in Delhi.
In the video, the devotees of Lord Shiva seems smashing the windows of the police vehicle and police officers were trying to stop them. At last, police manages to pull their van out of the crowd when police officers were busy handling the crowd who were attacking them.
See video:
#WATCH: Kanwariyas vandalize police vehicle after an altercation with locals in Bulandshahr on 7th August, police have registered a case. pic.twitter.com/UaIcNU55RV

— ANI UP (@ANINewsUP) August 9, 2018
As per the reports of the news agency ANI, the police have registered a case.
This video was recorded on the same day when a group of Kanwariyas vandalized and turning a car over in Moti Nagar, Delhi and brought the traffic to a halt.
Reportedly, kanwariya did this after a vehicle had accidentally killed a kanwaria, said Police.
As the video was also recorded, therefore, police registered an FIR against 'unknown persons'.
Moreover, Hindus are celebrating their holy month of sawan and devotees are going for pilgrimage to various Lord Shiva temples.
Also read: Video: Anguished Kanwar pilgrims vandalises, topples woman's car after being brushed in Delhi