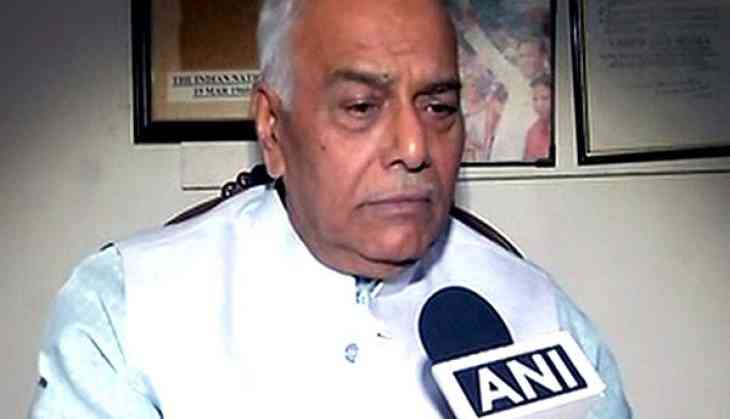 The Shiv Sena on 28 September backed former Minister of Finance Yashwant Sinha's criticism of the economy and said that the Bharatiya Janata Party (BJP) needs to prove that the claims by Sinha are wrong.
Backing Sinha's backlash at demonetization and the downward spiralling agricultural sector, the editorial in Shiv Sena mouth-piece 'Saamna' said, "Sinha has also focused on the conditions the country faced after demonetization. He has compared it to a situation of adding fuel to fire as the country was already moving in a downward spiral. Many of the government programmes like Make in India have failed. People are continuously losing their jobs. The prices of petrol and diesel are increasing. It was never this bad in the past two decades. Even the agricultural sector is struggling."
Shiv Sena also urged BJP to prove Sinha's comments as false claims, adding that even many BJP leaders know the truth but won't speak up out of fear.
Comparing the situation to Stalin's regime in Russia, the editorial says Sinha might be labelled as a traitor after his comments.
It adds that it would be interesting to watch what punishment Yashwant Sinha gets for speaking truth.
Shiv Sena also deemed the claims of development made by the Narendra Modi Government as mad and laughable.
"Rahul Gandhi has made a wise comment that 'the development might have gone mad as some people lied about it'. Some people feel that if the elections have been won by using money power and tampering Electronic Voting Machines (EVMs) then development has been done, but the situation of development has worsened," says the Saamna editorial.
It further adds: "When finance experts like Manmohan Singh and Chidambaram tried warning about the situation, then they were deemed to be mad. The perception of people in power 'seasoned finance ministers are fool and we are wise' has now been busted by BJP's former finance minister Yashwant Sinha. It is being said that country's development rate is 5.7 percent but Sinha has said that actually it's 3.7 percent."
-ANI