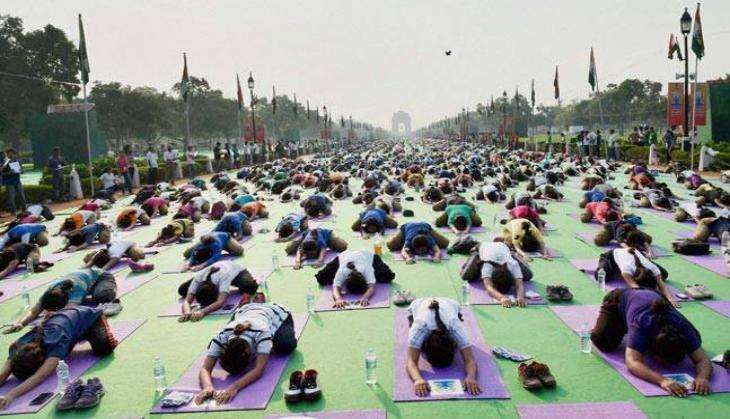 International Day Of Yoga celebrations began across the nation on Tuesday, as various states were seen holding yoga sessions, where people turned out in large numbers to practice the ancient Indian discipline.
Prime Minister Narendra Modi will participate in a mass yoga demonstration at the Capitol Complex in Chandigarh.
Over 30, 000 people, including 100 differently-abled children, are expected to participate in the event in Chandigarh, which is set to begin at 6.30 am. The theme this year's event is to 'Connect the Youth'.
As per reports, 10,000 participants each from Chandigarh and adjoining states of Haryana and Punjab will perform yoga asanas with Prime Minister Modi at the main event at the complex.
Elaborate arrangements have been put in place to ensure smooth performance at the venue. The complex is divided into 8 blocks where 500 master trainers along with their team members will perform. Nearly 600 buses are being used to ferry the participants to the venue. 300 pre-fabricated bio-toilets and 30,000 mats are being used on the occasion.
Stringent security arrangements have been put in place for event in Chandigarh. About 4000 paramilitary and 3000 Chandigarh police personnel have been deployed to guard the programme.
In the run up to the event, Prime Minister Narendra Modi released a commemorative postal stamp on Surya Namaskara in the national capital yesterday.
The Ministry of Human Resource Development took up the initiative of 'Yoga Olympiad', which saw participation of school children from across 21 states.
Over 173 Indian missions across the world are also organizing Yoga Day celebrations to spread awareness about the ancient Indian exercise. Besides, the main event on the Yoga Day, several Indian missions have organized a series of curtain raiser events in various parts of the world to spread Yoga awareness.
Meanwhile, the United Nations headquarters in New York was lit up ahead of International Yoga Day.
The United Nations General Assembly declared June 21 as the International Day of Yoga on December 11 in 2014 after a call from the Indian Prime Minister, Narendra Modi during his address to UN General Assembly on September 27.
-ANI