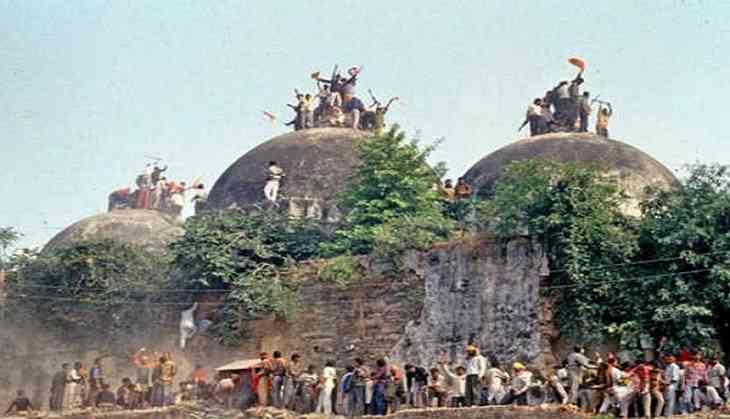 As the hearing in Supreme Court over the politically sensitive Ram Mandir- Babri Masjid concluded, Justice Bobde has stated that they are still searching for a chance of 'mediation.'
The bench, which heared the matter, comprised of Chief Justice Ranjan Gogoi, Justices SA Bobde, DY Chandradhud, Ashok Bhushan and S Abdul Nazeer. Now, the issue of translation has been brought up in the court.
The Supreme Court today held that "We are not going to waste our time and time of this Court if disputes are going to be raised regarding translation of the documents."
Ayodhya Ram Janmabhoomi-Babri Masjid land dispute case: Supreme Court says it will pass order on next Tuesday on whether the case may be sent for court-monitored mediation to save time. pic.twitter.com/8R7iHb8AeE

— ANI (@ANI) February 26, 2019
Ayodhya Ram Janmabhoomi-Babri Masjid land dispute case:
SC observes "it's not a dispute over private property. It has become so contentious. We're seriously giving a chance for mediation." Justice Bobde says on mediation, "even if there is only 1% chance, it should explored". pic.twitter.com/auAaThaji0

— ANI (@ANI) February 26, 2019
As per reports, the Supreme Court registrars has informed that there are still thousands of papers that need to be translated by the official translators of the court. But, the Hindu side told Supreme Court that advocates on record from the other side have already examined documents translated by Uttar Pradesh government. "It was done in 2017 & in 2019, they are again raising this issue," says advocate Vaidyanathan.
Later on, in the hearing, the apex court finally held that "Hearing of the title dispute adjourned for 6 weeks for want of agreement on the translated copies of the documents."
While, Subramanian Swamy also appeared in the court and asserting his right to pray, adding majority of Hindus aren't concerned about who has the property. "Faith can't be subjected to judicial scrutiny. Faith is recognised even by the #Constitution," said the BJP MP.
Supreme Court will hear the matter on March 5 and would decide upon the mediation issue and whether it can be done in the property dispute case.
Also read: 'You can always bomb your own territory,' says Subramanian Swamy on air strikes by IAF on Jaish camp in