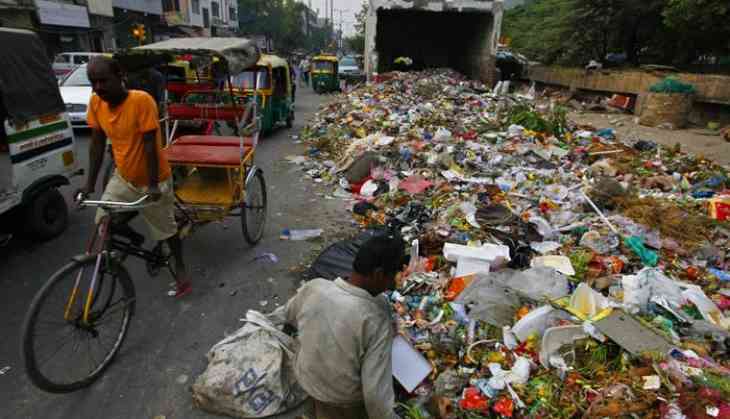 Sanitation workers strike
Sanitation workers of East Delhi Municipal Corporation intensified their strike on Thursday with scores of them marching to the residence of Delhi Chief Minister Arvind Kejriwal.
Protesting since September 12, the workers have been demanding clearance of dues, timely payments of salaries and regularisation of workers who have been inducted on a temporary basis.

The striking sanitation staff have not been collecting garbage for 22 days, turning several parts of East Delhi into open dump yards.
Sanjit Chandel, President of the Delhi Pradesh Safai Mazdoor Union, while speaking to ANI, expressed disappointment with the Delhi government.
"We are protesting from so many days, but the Chief Minister is not paying heed to our problems. We are kept deprived of the basic facilities. We meet the chief minister but he did not help us," Chandel asserted.
The matter has reached the Supreme Court. The Delhi government on Wednesday told the apex court that it would release Rs 500 crore within two days to civic bodies, which will help tide over the ongoing crisis.
But the sanitation workers have refused to budge until the action is executed.
A sanitation worker berated how she is unable to take proper care of her family as the salary paid to her is very low.
"We have do not receive any medical facility. Our salary is so low. We are forced to take this step," she said.
While protesting outside the Chief Minister's residence, the agitators broke the barricade and threw garbage on the security personnel deployed to stop them.
Earlier, EDMC commissioner Ranbir Singh refused to regularise these workers, but his decision was opposed by the Bharatiya Janata Party (BJP)-ruled EDMC.
The party even called a special house meeting for his impeachment, but before that could happen, the EDMC commissioner went on leave.
-ANI