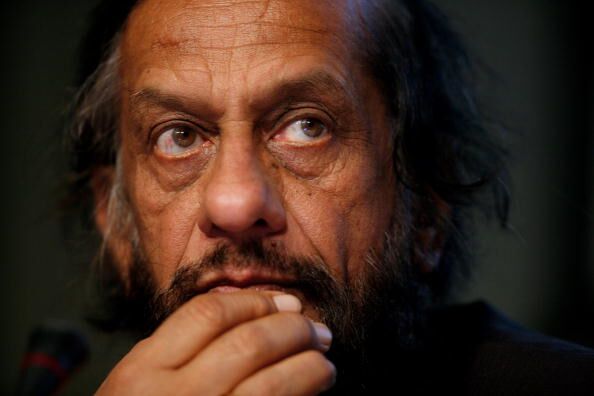 Even as trouble mounted for RK Pachauri, already embroiled in a legal battle over sexual harassment allegations, with another woman making similar allegations, TERI alumni have refused to take their degrees from him at the upcoming convocation.
In a letter addressed to acting vice-chancellor, Rajiv Seth, the former student accuses Pachauri of using his political clout to intimidate witnesses and scuttle the judicial process.
We reproduce the full text of the letter here.
The recent inaction of our board of management at TERI University with respect to our current chancellor Dr. Rajendra K. Pachauri deeply saddens us as alumni and a former student body.

The senior management and administration of TERI University has chosen to retain Dr. Pachauri as Chancellor and has also accepted the decision of TERI's governing council to appoint him to the newly created post of Executive vice chairman.

We are aware of Dr. Pachauri's immense contributions towards building both TERI and TERI University into what they have become today, and his ability to build global networks, promote the university and institute and to draw funds, projects and grants.

Nevertheless, no measure of such contributions can be used to justify alleged criminal behavior in the form of actions that cause serious harm to another human being. However, the stance of the entire top management at the University and at TERI has been implicitly that the university may continue churning out competent professionals who are good at application in their specialized domains of knowledge but with a complete disregard for values, ethics and principles of any kind.

We will not appreciate and consider a response based on the grounds that the charges against Dr. Pachauri are still "allegations", and that he has not been convicted. The Intergovernmental Panel on Climate Change (IPCC) gave Dr. Pachauri no leeway for his alleged actions and he had to resign as its Chairman despite the fact that he was near the end of his term. This stands in stark contrast with either TERI, which has created a unique position for him, or TERI University, which has let him continue in his capacity as Chancellor.

Our rationale and conscience are both clear: the Internal Complaints Committee constituted by TERI has found Dr. Pachauri to be guilty of having systematically abused his position of power to exploit and sexually harass a colleague.

Given the flow of events, it is seems like Dr. Pachauri is using all his political clout, media influence and networks to stall the judicial process, intimidate witnesses, coerce TERI colleagues and employees to 'persuade' the complainant to withdraw her case and settle out of court as it would be 'better for her since she has nothing more to gain'.

As we take small steps in building our careers at different institutions of repute, it is becoming increasingly unviable for us to stay silent on this matter, which we consider to be an absolute contempt of principles, ethics and the law. We have a certain duty to uphold some sense of justness as responsible citizens of society.

Dr. Pachauri's continuing presence at the top is completely antithetical to our convictions as alumni and graduates of TERI University. We would like to make it explicitly clear that we are not in a position to accept our degrees from Dr. Pachauri at the upcoming convocation on March 7 th , 2016. We reiterate, that the trajectory that the University is taking is dangerous and grossly inconsiderate, and as alumni, we sincerely hope that the TERI University Board of Management may seriously reevaluate Dr. Pachauri's continuing role as Chancellor of the university.

It is only the basic and essential good practice that he may immediately recuse himself from the post of chancellor and cease involvement in TERI University matters pending completion of legal proceedings.

Barring an appropriate response from the TERI University Board of Management, as 2013- 2015 alumni we will make the assumption that the situation remains unchanged and that the University will not engage constructively with our concerns, following which, the undersigned will not be in a position to accept their degrees from Dr. Pachauri at the 2016 convocation.