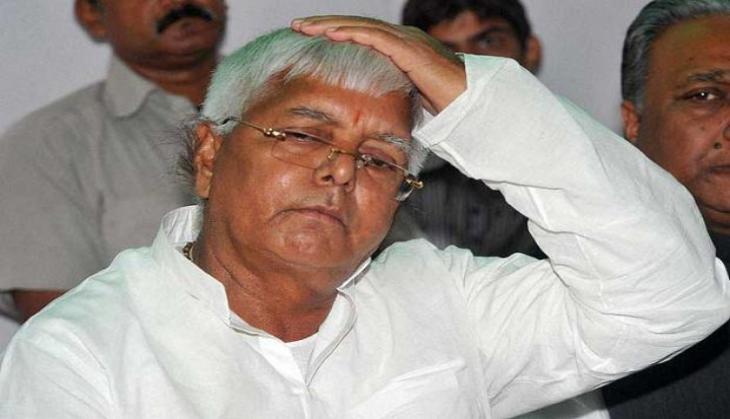 Exclusion of RJD supremo Lalu Prasad from the dignitaries, who shared the dais with Prime Minister Narendra Modi and Bihar Chief Minister Nitish Kumar at the Prakash Parv in Patna, drew flak from the RJD and Congress, on 6 January.
RJD vice president Raghuvansh Prasad Singh voiced the party's grievance.
The mega arrangements were made by the state government, of which RJD is an ally, to mark the birth anniversary of Guru Gobind Singh, the 10th Sikh Guru, on 5 January.
"It did not look like the arrangements to mark Guru Gobind Singhji Maharaj's 350th Prakash Parv were made by the alliance government. Rather, it looked more like they were made by one party in power," Singh told PTI.
"This (Lalu not being accommodated on the dais) has not gone down well with the people. Lalu Prasad was made to sit below (the dais). Everybody praised Nitish Kumar for making the grand arrangements. Was RJD not part of the management for the preparations and arrangements for the Prakash Parv celebrations?", he asked.
Firing yet another salvo at Kumar, Singh, whose frequent digs at the chief minister have drawn sharp reactions from the JD(U) in the past, said, "It was one man who got his photo clicked to take credit for the arrangements."
Lalu and his two minister sons, Tejashwi Prasad Yadav and Tej Pratap Yadav, sat in the VIP enclosure with others during the function.
Kumar, along with two Union ministers -- Ravi Shankar Prasad and Ram Vilas Paswan -- and Bihar Governor Ram Nath Kovind, shared the dais with the prime minister at the concluding function of the 350th Prakash Parv.
Congress also expressed its displeasure over the denial of seat to Lalu on the dais and blamed the Prime Minister's Office and the BJP for it.
"Lalu Prasad was not given a seat on the dais on instructions from the PMO and the BJP," Bihar Congress chief and state minister Ashok Choudhary alleged.
"Everyone knows that the PMO guides the SPG as regards who will share the dais with the prime minister at a function. The question should be raised before the PMO as to why was Lalu Prasad not given a seat at the podium," he told PTI.
Nobody from the Congress, which too is an ally in the grand alliance government in Bihar with the JD(U) and the RJD, was present at the mega event at the Darbar Hall, a replica of the Golden Temple in Amritsar erected at Gandhi Maidan for the Prakash Parv celebrations.
"We had invitations but we chose not to go," Choudhary, who sat on a dharna today as part of the Congress' agitation against demonetisation, said.
-PTI