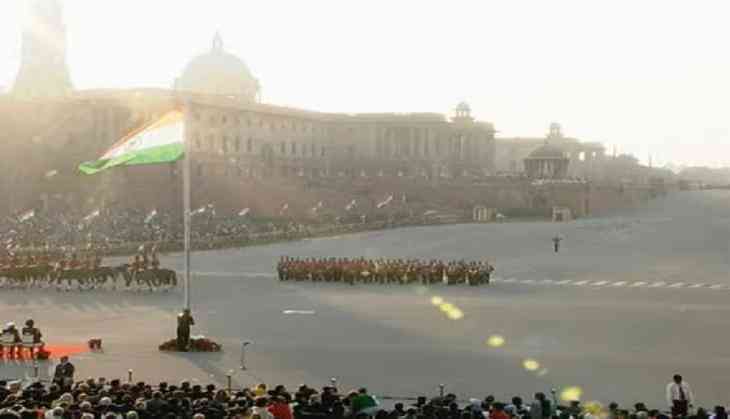 The curtain was brought down on all ceremonials related to the Republic Day 2018 with a mesmerizing and poignant 'Beating the Retreat' tri-services band ceremony on Vijay Chowk in the presence of President Ram Nath Kovind, Vice President M. Venkaiah Naidu, Prime Minister Narendra Modi, members of the union cabinet, political dignitaries and service chiefs, besides people from other walks of life.
The 'Beating Retreat' ceremony is held here every year on January 29, marking the culmination of the four-day-long Republic Day celebrations.
Bands from the Army, the Navy, the Air Force, the State Police and Central Armed Police Force (CAPF) participated in the ceremony at the Vijay Chowk here in New Delhi.
The ceremony began with President Ram Nath Kovind arriving at the venue. Vice President Venkaiah Naidu, Prime Minister Narendra Modi, Defence Minister Nirmala Sitharaman and other dignitaries along with chiefs of the Army, Navy and the Air Force were present on the occasion to witness 26 military band performances, with the foot-tapping music.
Out of the 26 performances, 25 tunes were composed by Indian musicians. 'Abide with Me', Father of the Nation Mahatma Gandhi's favourite tune was the only western one.
The event culminated with the tri-services bands marching up Raisina Hill to the tune of 'Sare Jahan se Acha'.
In all, 18 military bands, 15 pipes and drums bands from regimental centres and battalions participated in the ceremony.
Major Ashok Kumar was the principal conductor of the ceremony.
The army military bands were conducted by Subedar Major S K Sharma and the Navy and Air Force band conductors were Master Chief Petty Officer (Musician-I) Ramesh Chand and Junior Warrant Officer Ashok Kumar respectively.
The conductor of the state police and CAPF bands was Constable Bhim Singh.
Buglers performed under the leadership of Subedar Jagdish Giri and pipes and drums bands were played under the instructions of Subedar Major Num Bahadur Gurung.
The ceremony traces its origins to the early 1950s when Major Roberts of the Indian Army developed the unique ceremony of display by the massed bands.
'Beating Retreat' marks a centuries-old military tradition, when the troops ceased fighting, sheathed their arms and withdrew from the battlefield and returned to the camps at sunset at the sounding of the Retreat.
--ANI