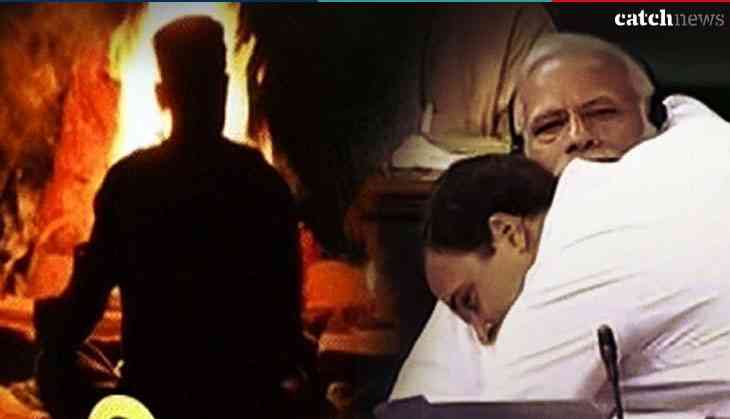 The sudden hug from Congress chief Rahul Gandhi to Prime Minister Narendra Modi in Lok Sabha during no-trust motion has left everyone in shocked cum surprised. Not only members present in Parliament but also people who have 'zero' ideas about what's happening in Indian politics, their eyebrows were raised as soon as they came across the news and saw him hugging PM Modi in the Parliament soon after he ended his speech. Well, Rahul Gandhi's hug followed by wink has bagged mixed response from the people across India. Well some came up calling it has black magic behind it.
Commenting on Rahul Gandhi's hug, BJP Delhi spokesperson Tajinder Pal Singh Bagga claimed that he hugged PM Modi on the advice of a tantrik. While speaking on the hug that Rahul Gandhi gave to PM Modi in Lok Sabha, Bagga said that one of his close friends, a Congress MP, had told him that Rahul Gandhi hugged Modi on the advice of a tantrik. He said that the tantrik had adviced Rahul Gandhi to touch PM Modi's chair as soon he ends his speech.
The Congress chief's following gesture drew criticism from the opposition and common people with many claiming that he had disrupted the decorum of the Parliament. Lok Sabha speaker Sumitra Mahajan had also expressed her displeasure over the incident.
Just a moment before Rahul Gandhi hugged PM Modi, he said BJP may hate him, abuse him and even call him a Pappu but he doesn't have a problem with that. He added that all that he has for them is love and went on to hug PM Modi.
Also read: Rajasthan: After Alwar lynching, Dalit man allegedly beaten to death for affair with Muslim girl in Barmer; two held