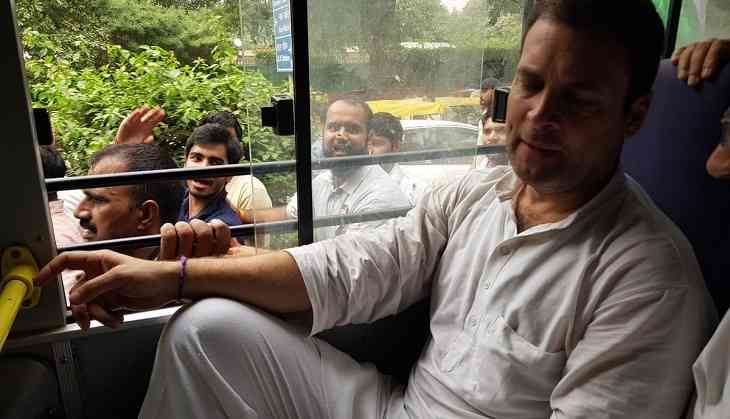 After staging a nationwide protest against the government's decision of sending CBI director Alok Verma on leave, the Congress party chief Rahul Gandhi is going to give symbolic arrest near Lodhi road police station.
Several workers and supporters of the Congress party had been detained after they protested and marched in front of CBI headquarters in Delhi. The leaders of other parties like D Raja of CPI, Anand Sharma of the Congress were present during the protest march led the Congress chief Rahul Gandhi.
The Supreme Court had earlier issued notices to the CVC, government, Alok Verma and CBI on the matter and had asked to complete the probe within 2 weeks of the formation of the committee, which will comprise of the CVC and a retired Supreme Court judge.
Finance Minister Arun Jaitley has said, "The Supreme Court has further strengthened the fairness criteria. They have appointed a retired judge for the probe and given a time limit to ensure that the truth comes out. The truth coming out is in larger interest of the country. The government considers it as a very positive move."
Congress chief Rahul Gandhi said, "Prime Minister Narendra Modi and BJP have destroyed every institution that exists in our country."
Home Minister Rajnath Singh said, "Congress doesn't have any people's issues to raise that is why they are taking up these non-issues. We should wait for the investigation report."
Rahul Gandhi has courted his arrest with senior Congress leaders Anand Sharma, Ashok Gehlot at Lodhi road police station to form a consensus across the nation that government's crackdown on the CBI director Alok Verma.
Also read: Supreme Court allows CVC to probe in director Alok Verma's case; orders to complete
#Visuals of Congress workers being detained by police during protests near #CBI headquarters in Delhi. pic.twitter.com/17TpXm6rte

— ANI (@ANI) October 26, 2018
Congress President Rahul Gandhi and other leaders who were protesting near #CBI headquarters have been arrested: RS Surjewala pic.twitter.com/WKA9wwqXf8

— ANI (@ANI) October 26, 2018