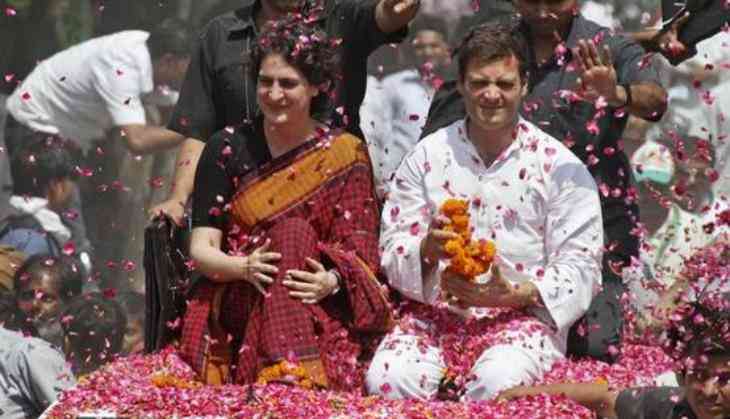 Priyanka Gandhi Vadra and Rahul Gandhi
After a political master stroke played by the Congress to revive itself in Uttar Pradesh and bring Priyanka Gandhi in mainstream, Rahul Gandhi's first reaction have come where he said that he is happy with this development.
Congress president Rahul Gandhi, who was speaking after a political entry of Priyanka Gandhi in to Indian politics, said, "I am personally very happy that now we both will work together but we won't play on the back foot anywhere. This step will lead to a new thought and positive change in Uttar Pradesh."
As Jyotiradtiya Scindia, who was touted to be the backbone of the Congress in winning the Madhya Pradesh election, was not made the CM and has now been made the National General Secretary and will also be responsible for the Western UP in the 2019 Lok Sabha election.
Congress President Rahul Gandhi on Priyanka Gandhi: Mujhe personally bahut khushi ho rahi hai ki woh ab mere saath kaam karengi, woh bahut karmat hain. Jyotiraditya Scindia bhi bahut dynamic leader hain. BJP wale ghabraaye hue hain. pic.twitter.com/8QpfJjJdO3

— ANI (@ANI) January 23, 2019
Congress president Rahul Gandhi said, "Priyanka Gandhi and Jyotiraditya Scindia are powerful leaders. We wanted the young leaders to change Uttar Pradesh politics."
Gandhi added that " We have no enmity with Mayawati ji and Akhilesh ji, infact I respect them a lot. We are ready to cooperate with them wherever possible. Ultimately the aim of all three of us is to defeat BJP, but yes our fight is to save Congress ideology"
Now, BJP's reaction have also come in on the issue and they said that "Expected, to promote dynasty is what Congress is all about. They consider family as the party while BJP considers party as the family. Congress has accepted that Rahul Gandhi Ji has failed."
Also read: PM Modi opens up ahead of 2019 election, says, 'cleaned utensils, prepared food at RSS office'
Sambit Patra, BJP on #PriyankaGandhiVadra appointed Congress General Secretary for East UP: Expected, to promote dynasty is what Congress is all about. They consider family as the party while BJP considers party as the family. Congress has accepted that Rahul Gandhi Ji has failed pic.twitter.com/NlTdF2LmxS

— ANI (@ANI) January 23, 2019