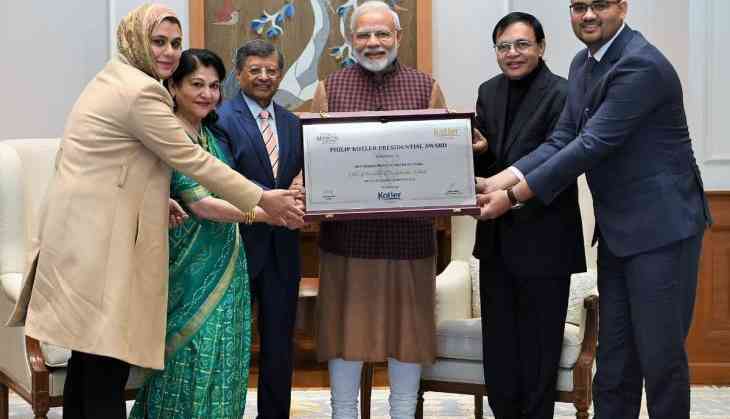 PM Modi receiving the award
Prime Minister Narendra Modi was awarded with first ever 'Philip Kotler Presidential Award' by the World Marketing Summit and Rahul Gandhi has congratulated PM over it.
Rahul Gandhi took to Twitter to express his gratitude and eventually took jibe over PM, saying, "PM, on winning the world famous "Kotler Presidential Award"! In fact it's so famous it has no jury, has never been given out before & is backed by an unheard of Aligarh company. Event Partners: Patanjali & Republic TV."
Even, RJD leader Tejashwi Yadav, who is a member of Grand Alliance, tweeted saying, "PM Modi with "koti-koti badhai (congratulations) for the unparalleled, unusual and amazing award."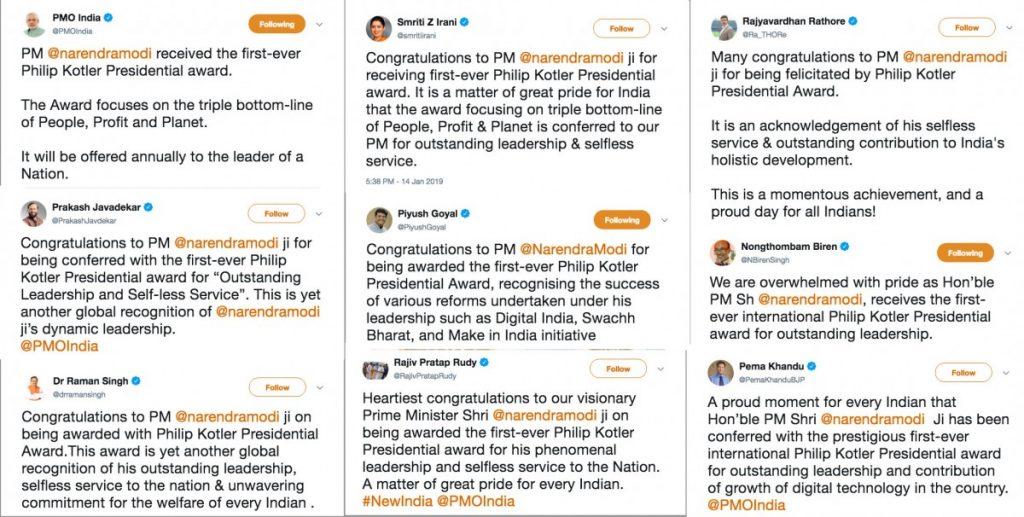 PM Modi congratulated by ministers (The Wire)
Senior leaders and ministers were quick to wish PM Modi on the award which was given to him. Piyush Goyal tweeted saying, "Congratulations to PM Narendra Modi for being awarded the first-ever Philip Kotler Presidential Award, recognising the success of various reforms undertaken under his leadership such as Digital India, Swachh Bharat, and Make in India initiative."
Former Chhattisgarh Chief Minister Raman Singh said, "Congratulations to PM Narendra Modi ji on being awarded with Philip Kotler Presidential Award.This award is yet another global recognition of his outstanding leadership, selfless service to the nation & unwavering commitment for the welfare of every Indian."
The event was sponsored by Patanjali and Republic TV.
Also read: Watch: BSF jawan sings soulfully 'Sandese Aate Hain' from Border movie, Arvind Kejriwal retweets viral