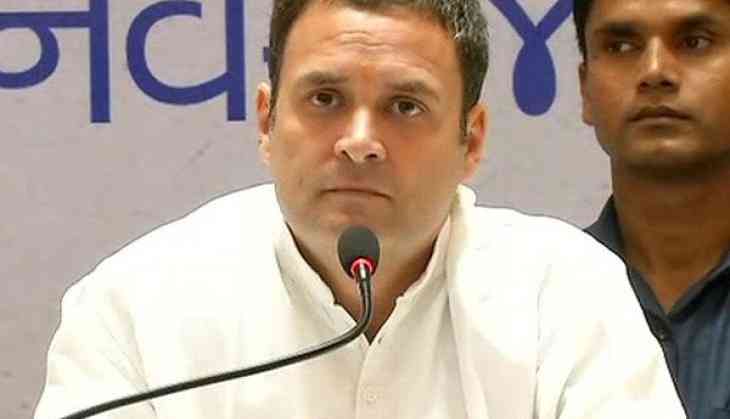 Congress president Rahul Gandhi launched a scathing attack at the BJP-led government as he chaired the meeting of the recently-constituted Congress Working Committee (CWC) on Sunday.
This is Congress president's first CWC meet after taking over the rein of the Sonia Gandhi.
During the meeting held in Parliament Annexe Building, Rahul, in his opening remark, reminded the party supporters "the role of Congress as the voice of India as also its responsibility of present and future."
Rahul also hit out at the BJP saying that the party "attacks institutions, dalits, tribals, backwards, minorities and poor". He also urged the Congressmen and women "to rise and fight for India's oppressed."
He further described the CWC as "institution comprising experience and energy, as a bridge between the past, present and the future."
Former party president and UPA chairman Sonia Gandhi also criticised the Modi government and said the "reign of despair and fear heaped upon India's deprived and poor."
She further slammed the central government for its "failures" and said, "the rhetoric of PM Modi shows his desperation reflecting that reverse countdown of the Modi government has begun."
Former prime minister Manmohan Singh also trained guns at the ruling Centre and said, "It's a culture of constant self-praise and jumlas as against solid policy framework for driving the engine of growth."
He also raised question over Centre's promise of doubling farmers' income by 2022 and said the Modi government's claim will require an agricultural growth rate of 14 percent "which is nowhere in sight."
Earlier this week, Rahul rejigged the committee and dropped senior party leaders like Digvijaya Singh, Kamal Nath, Sushil Kumar Shinde, Mohan Prakash, CP Joshi and Shashi Tharoor from the committee. He also appointed some new members including Jyotiraditya Scindia, Jitin Prasada, Tarun Gogoi, Siddaramaiah, Sheila Dikshit, Ghulam Nabi Azad, Mallikarjun Kharge.
The new CWC includes 23 members, 19 permanent invitees, and nine special invitees.
The CWC meeting comes just a few days after a joint opposition faced a decisive defeat from the ruling Narendra Modi government in the no-confidence motion vote held in Lok Sabha on July 20.
--ANI