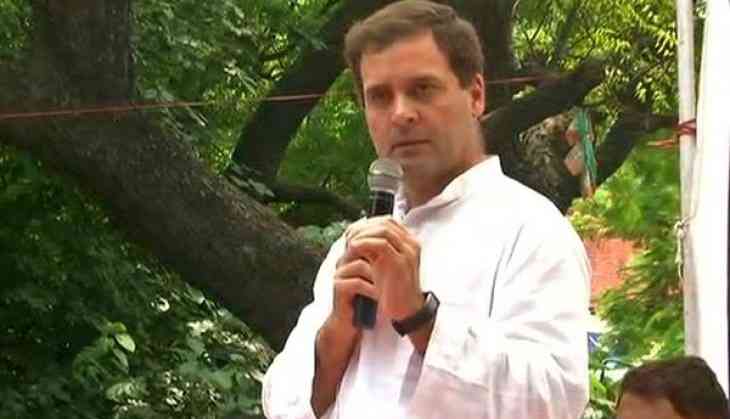 Questioning Prime Minister Narendra Modi's "neeyat" (intentions) towards Dalits, Congress president Rahul Gandhi on Thursday claimed that the former wants to marginalise the weaker sections of the society.
Rahul further while addressing a gathering at the Jantar Mantar, Gandhi took a dig at the Bharatiya Janata Party's (BJP) campaign slogan for upcoming 2019 general elections, 'Saaf Neeyat, Sahi Vikas' (Good Intention, Right Development).
He said, "The things start with "neeyat" (intentions), whatever will be there in Prime Minister Narendra Modi's heart, the things will work according to that. Prime Minister Modi wants Dalits to remain marginalised. If Modi had a place for Dalits in his heart, his policies would have shown it by now. Prime Minister Modi had written in one of his books that it feels good when the house has been cleaned by a Dalit. The atrocities Act was given by the Congress party and former prime minister Rajiv Gandhi to India. I assure you, the Congress will not let the SC/ST Act to be diluted."
Recollecting the incident of Rohith Vemulla, a research scholar at the University of Hyderabad who allegedly committed suicide two years back due to alleged caste-based discrimination, the Congress President said, "Prime Minister Modi's thinking is anti-Dalit. We will all beat them together in 2019. The Congress has always protected the SC / ST Act and will continue to do so."
Along with Gandhi, CPI (M) General Secretary Sitaram Yechury also attended the protest organised by Telangana-based group Mahadika Reservation Vikas Samiti.
The protestors at Jantar Mantar in the national capital are demanding the release of all their leaders arrested under criminal charges during April's Bharat Bandh. The agitators are also demanding the arrest of all those involved in atrocities against Dalits.
However, the Lok Sabha, on Monday, unanimously passed the law with provisions for stricter guidelines, like no bail for anyone accused of atrocities on SC/STs and non-requirement of an inquiry for registering a criminal case and beginning a probe.
--ANI