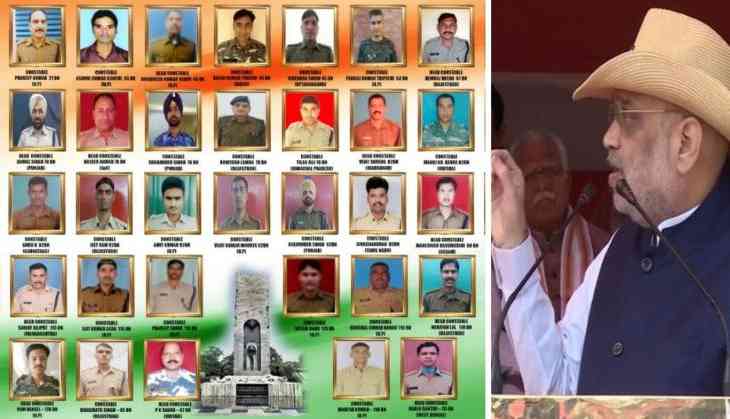 Pulwama attack's 4th anniversary
Karnal (Haryana): "The names of those 40 soldiers will always remain etched with golden letters in India's history of bravery and sacrifice. Their sacrifice has a huge contribution to the country's progress," Union Home Minister Amit Shah said while remembering cowardly Pulwama attack on CRPF Jawans in 2019.
Union Home Minister Amit Shah was presenting the President's Colour award to Haryana police in Karnal on Tuesday.
Suicide attack
On this day 40 Central Reserve Police Force personnel lost their lives after a suicide bomber rammed a car laden with explosives into the security force convoy. Pakistan-based terror group Jaish-e-Mohammed claimed responsibility for the attack.
Major internal security challenges solved: Amit Shah
Speaking on terrorism, Amit Shah said, "Under the leadership of the Prime Minister, since 2014, India's home ministry has solved challenges of internal security. Whether is Jammu and Kashmir, North East or the leftist terrorism, these three were sore wounds that the country faced for decades."
Abrogation of 370 gamechanger: Amit Shah
"I can say with confidence that after the abrogation of 370, terrorism activities in Kashmir have reduced significantly and record tourists are reaching Kashmir every year," he said. Speaking on the insurgency situation in the northeast Shah said, "Similarly, because of multiple agreements, the youth left various insurgency groups and have surrendered to start a normal life. There is peace in the northeast now."
(With ANI inputs)