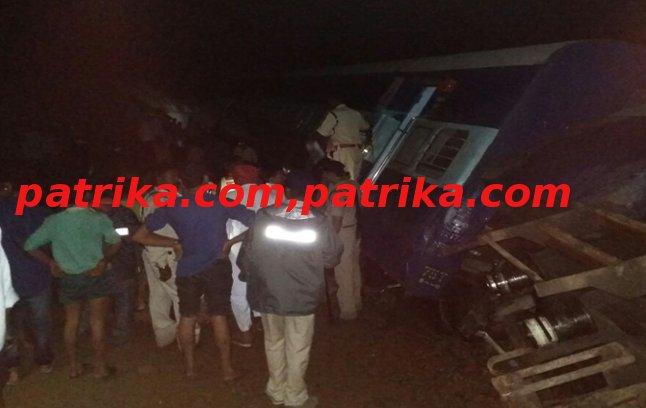 11 women and five children were among the 29 passengers killed while 25 others were injured when several coaches of two trains, one heading to Mumbai and another to Varanasi, derailed over a railway bridge in Harda district and plunged into the swollen Machak river.
Over 250 passengers have been rescued, a railway official said.
The Railway Ministry has ordered an inquiry into the twin train derailments and compensation for the families of the victims.
"Twenty nine bodies, including those of 13 men, 11 women and five children, have been recovered so far from the mishap site between Khirkiya and Harda, about 160 kms from Bhopal," Madhya Pradesh government spokesman Anupam Rajan told PTI, adding that the toll could further go up.
However, Divisional Railway Manager (DRM) Bhopal, Alok Kumar said, "11 passengers of Janata Express and one from Kamayani Express were found dead. About rest, we are not sure whether they were villagers or some other persons." ? ?
Though the state government said that 21 coaches of the two trains derailed, the DRM said seven bogies of the Janata Express plus engine and 10 of Kamayani Express derailed.
According to Central Railway PRO Piyush Mathur, seven?coaches of Kamayani Express, heading from Mumbai to Varanasi, and three bogies plus the engine?of the Rajendra Nagar-Mumbai Janata Express derailed at 11 PM last night.
"Nearly 25 passengers suffered injuries," he said.
Making a suo motu statement on the incident in Parliament, Railway Minister Suresh Prabhu said track washout due to a swollen Machak river led to the derailment of the two trains.
Commissioner Railway Safety (central zone) will conduct an inquiry into the accidents, Railway Spokesperson Anil Saxena said.
He said though prime facie flash floods led to the derailment of the two trains, the real cause will be ascertained after submission of the inquiry report.
The official said just eight minutes before the accident, two trains had crossed that section and their drivers did not detect any problem.
Prime Minister Narendra Modi expressed grief over the loss of lives in the twin train accidents and said authorities are doing everything possible on the ground..
-PTI