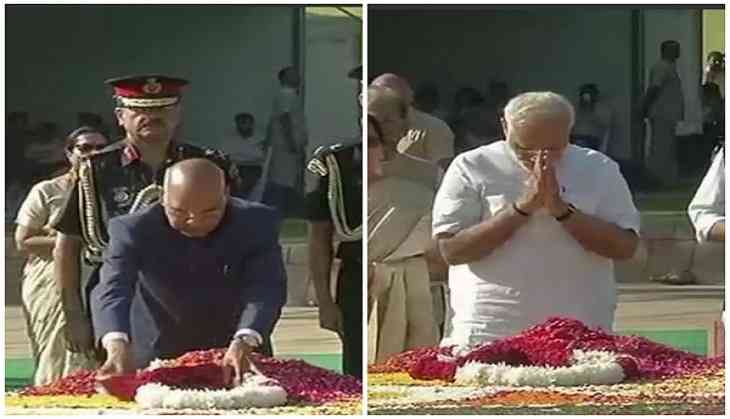 President Ram Nath Kovind on 2 October paid floral tribute to the second prime minister of India Lt. Lal Bahadur Shastri on his 113th birth anniversary at his memorial in Vijay Ghat here.
Vice President Venkaiah Naidu and Prime Minister Narendra Modi also paid tributes at Shastri's memorial.
Earlier, Prime Minister Modi took to his Twitter handle to release a video praising Shastri for motivating farmers and the armed force of the nation.
-ANI
जवानों एवं किसानों के प्रणेता एवं देश को कुशल नेतृत्व प्रदान करने वाले शास्त्री जी को नमन! Remebering Lal Bahadur Shastri ji on his Jayanti. pic.twitter.com/88ieTHnZip

— Narendra Modi (@narendramodi) October 2, 2017
Lal Bahadur Shastri was born on 2 October, 1904 in Mughalsarai district of Uttar Pradesh.
He entered politics at a young age as a satyagrahi in the Indian National Movement.
On 15 August, 1947, he became the Minister of Police and Transport in the Independent India.
He is known for his major contribution for promoting White Revolution to increase the supply of milk and Green Revolution to boost India's food production.
He became the prime minister of India in 1964 and led the country during the India-Pakistan war in 1965.
On 11 January, 1966, he took his last breath in Tashkent, suffering from cardiac arrest.
-ANI