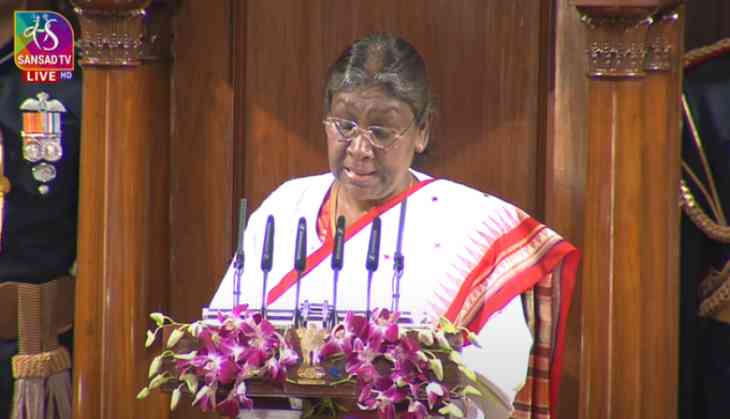 President Droupadi Murmu.
India has entered Amrit Kaal completing its 75 years of Independence and in this citizens have to focus on their duty towards building an 'aatmanirbhar' (self-reliant) India, said President Droupadi Murmu in her pre-budget address to the joint session of Parliament on Tuesday.
"By 2047, we have to build a nation that will be connected to the pride of the past and which will have all the golden chapters of modernity. We have to build an India that will be 'Aatmanirbhar' and capable to fulfill its humanitarian duties," President Murmu said.
In her maiden address to the joint sitting of Lok Sabha and Rajay Sabha in the central hall of Parliament President Murmu said, "India has entered Amrit Kaal completing its 75 years of Independence. Amrit Kaal is a period of 100 years of Independence and making of a developed India. These 25 years is a period for all citizens to focus on duty."
The President described an India without poverty and full of prosperity.
"That should be an India that will not have poverty, whose middle class will also be prosperous, an India whose youth and women will stand at the front to show a path to society and the country, an India whose youth stays two steps ahead of time," she said.
President Murmu also lauded India's growing position on the world stage and said that the country is providing solutions to the world.
"Today, India's self-confidence is at its highest and the world is looking at her from a different perspective. India is providing solutions to the world," the President said.
This is President Murmu's first budget session speech since assuming office in July last year. The President arrived in a ceremonial escort to Parliament to address the joint session at the start of the Budget session
Earlier addressing reporters outside Parliament Prime Minister Narendra Modi said, "Our Finance Minister will present one more Budget before the country tomorrow. In today's global circumstances, not only India but the entire world is looking at India's budget. Amid the unstable global economic situation, India's Budget will attempt to meet the hopes and aspirations of the common citizens. I firmly believe that Nirmala Sitharaman will make all efforts to meet those aspirations."
The budget session that began today with the President's address will take place in 27 sittings till April 6 with a month-long recess to examine the budget papers. The first part of the session will conclude on February 13. Parliament will reconvene on March 12 for the second part of the Budget Session and will conclude on April 6.
(ANI)
Also Read: PM Modi ahead of Parliament Session: The whole world has its eyes on India's Budget