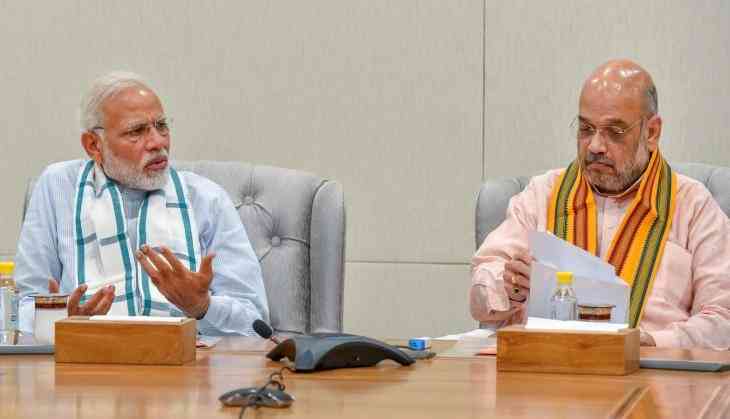 Prime Minister Narendra Modi extended birthday wishes to BJP president and home minister Amit Shah on Tuesday. Noticeably, Home Minister of India, Amit Shah is celebrating his 55th birthday today and PM Modi has described him as a hard-working person who is playing an important role in keeping India secure.
PM Modi took Twitter to wish Amit Shah and wrote, "Birthday greetings to my colleague in the Union Cabinet, a hardworking, experienced and an able organisational person. While playing an important role in government, he is making a valuable contribution to make India stronger and safer,"
कर्मठ, अनुभवी, कुशल संगठनकर्ता एवं मंत्रिमंडल में मेरे सहयोगी अमित शाह जी को जन्मदिन की ढेरों शुभकामनाएं। सरकार में बहुमूल्य भूमिका निभाने के साथ ही वे भारत को सशक्त और सुरक्षित करने में भी महत्वपूर्ण योगदान दे रहे हैं। ईश्वर उन्हें दीर्घायु करे और सदा स्वस्थ रखे। @AmitShah

— Narendra Modi (@narendramodi) October 22, 2019
Amit Shah is currently the home minister of India in NDA government 2.0, earlier Amit Shah was not a part of the government as he was only BJP president. However, this time after late BJP leaders Arun Jaitley and Sushma Swaraj stepped down as ministers, Amit Shah entered in the cabinet and became Home Minister of India replacing Rajnath Singh.
Amit Shah was also the home minister of Gujarat when PM Modi was the chief minister of the state. Amit Shah took the biggest decision of his portfolio by revoking article 370 and special status from Jammu-Kashmir state.
Also Read - Article 370: Jaishankar questions US media on Kashmir, says 'didn't present a fair picture'