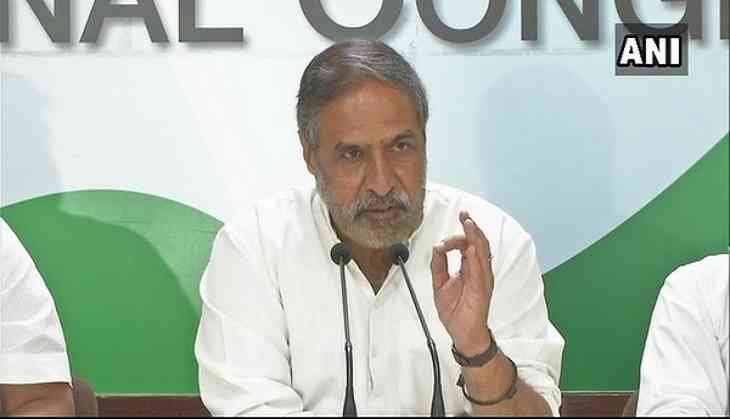 The Congress Party on Sunday criticised Prime Minister Narendra Modi for calling it a "Muslim party", and said that his "sick mindset" was an issue of national concern.
"With his statements, the Prime Minister not only disrespects history but also undermines the achievements of India. This sick mindset of his is an issue of national concern. The Prime Minister gives out statements which are wrong as per history and facts," Congress leader Anand Sharma said at a press conference here.
Sharma further alleged that due to his lack of knowledge, Prime Minister Modi writes his own history.
"The Prime Minister is for entire India and not only the Bharatiya Janata Party (BJP). His main political rival, Congress party has led nationalist movements and struggle for freedom. Calling the party a 'Muslim party' is not befitting of a Prime Minister. He has less knowledge of history. He writes his own history," he said.
Sharma also suggested Prime Minister Modi to maintain a list of Congress leaders who have served as Presidents in his office.
"He (Prime Minister Modi) will have to be reminded that presidents of the party were Mahatma Gandhi, Jawahar Lal Nehru, Sardar Patel, Lala Lajpat Rai, Maulana Azad. It will be better if he keeps a list of Congress Presidents in his office. Maybe then he will leave his habit of giving wrong statements," Sharma said.
Earlier in the day, Prime Minister Modi had asked if the Congress was only for Muslim men, and not women.
"I have read that Congress president (Rahul Gandhi) has said that Congress is a party of Muslims. I am not surprised as when Manmohan Singh was the Prime Minister, he had said that Muslims have the first right over natural resources. All I want to ask is that is their party only for Muslim men or for women too?" he said a rally in Uttar Pradesh's Mirzapur.
In response to the same, Congress spokesperson Randeep Singh Surjewala said that the Prime Minister was afraid of defeat in the upcoming general elections, and was spreading hatred and fear in the society.
"Undermining the position of the Prime Minister, Modiji has been caught spreading false rumours about Manmohan Singh and Rahul Gandhi. But he should know that the descendants of Godse's ideology can never defeat Gandhi's ideology. The people want to know when black money come back to the country, when will fuel prices go down and when will 'acche din' come? But it seems that 'acche din' will only come when Modi will be voted out of power," he said.
(ANI)