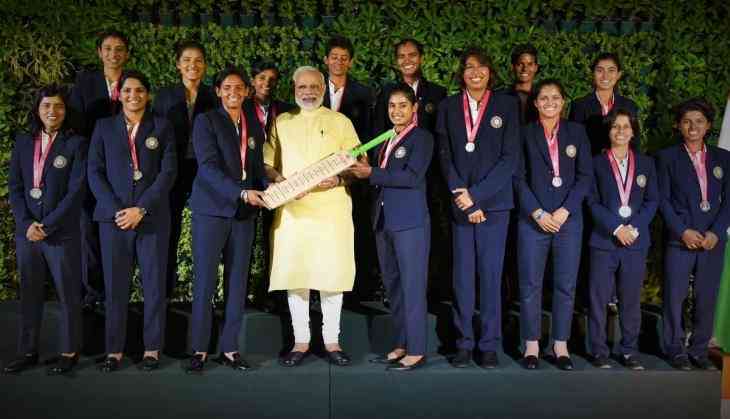 PM Modi lauds Mithali & Co. on Mann Ki Baat
Prime Minister Narendra Modi has heaped praise on the Indian women's cricket team for their stellar performance during the recently-concluded ICC Women's World Cup in England, saying despite their loss in the final, they won the hearts of 125 crore Indians.
The Indian eves won many hearts during their stunning run in World Cup in England. Led by Mithali Raj, the team stormed into the final of the tournament defeating the likes of Australia, South Africa and New Zealand.
However, the Women in Blue, on their path to a historic World Cup win, conceded the contest to England in the summit clash as they lost the match by just nine runs at the Lord's.
Returning home as runners-up, the team found that the entire nation was zealous in hailing their efforts in a prestigious quadrennial tournament wherein nobody gave them a chance for going this far.
Before the final at Lord's on July 23, the Prime Minister had posted tweets on each of India's cricketers.
And on July 27, Prime Minister Modi interacted with the players and officials of the cricket team and lauded their performance in New Delhi.
At the occasion, he was also presented with a signed cricket bat by Mithali and Co.
During the 34th edition of the Mann Ki Baat address on Sunday, Prime Minister Modi said that the women's cricket team performed exceedingly well in the World Cup.
"I got a chance to meet them this week only. I spoke to them and was feeling great. But I realised that they had this guilt of not winning the World Cup. They were feeling nervous," he said.
"But I told them, in this day and age, expectations are raised so much. And then, if our team can't win some people don't even respect basic decencies. But, the way India supported the women's cricket team shows a shift. I am happy how India took pride in the team's accomplishment."
"I told them that it was the first time that when our team lost in the finals, 125 crore Indians carried their defeat in the final, on their shoulders, and this was, in fact, their greatest victory. Even though the team could not win the World Cup, they won the hearts of 125 crore Indians," he added.
-ANI