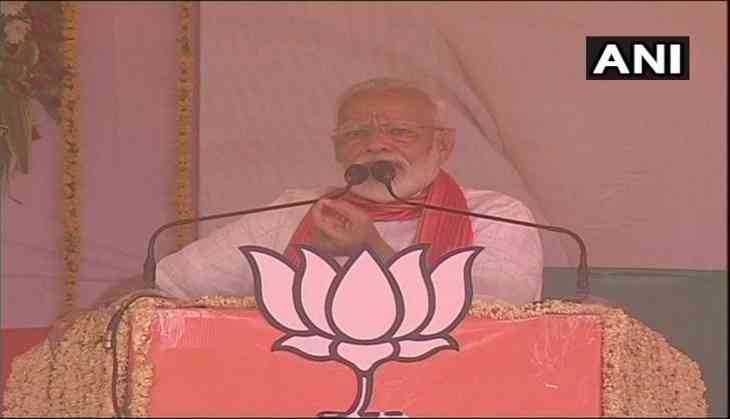 Launching scathing attacks on Mahagathabandhan, Prime Minister Narendra Modi said mahamilavati people are forcing him to speak on it. While addressing his first rally in Uttar Pradesh's Kannuaj on caste politics, PM Modi said he is not backward class born instead born in 'extreme backwardness'. He was responding on a comment by Akhilesh Yadav -Mayawati alliance.
"I have never spoken about my caste, but mahamilawati people are forcing me to speak about it. I am not backward but was born in extreme backwardness. Don't drag me into this caste politics." PM Modi was addressing a rally in Kannauj in Uttar Pradesh.
PM: Meri jaati to itni choti hai, gaon mein ek-adh ghar bhi nahi hota hai. Mai to pichda nahi, ati-pichde mein paida hua hu, aap mere munh se bulwa rahi ho isliye bol raha hu. Jab mera desh pichda (backward) hai to agda(forward) kya hota hai. Mujhe to pure desh ko agda banana hai pic.twitter.com/YRjfhonIW2

— ANI UP (@ANINewsUP) April 27, 2019
Slamming Mahagathbandhan, PM Modi twisted the Hindi quotes and said, "Congress, SP, BSP have only one mantra - jaat paat japna, janta ka maal apna (talk about caste, class and take away all of the public's money)"
PM Modi also said that SP-BSP abuses him but can't abuse terrorists. "Should India be protected from terrorists or not? Did SP-BSP leaders mention terrorism even once? They abused Modi so much but did they abuse terrorism? Are they scared of terrorists or do they want to protect them?" he sai,
Describing the saffron in tricolour, PM Modi said, "We want to take the country forward with the inspiration from the tricolour flag. Like the first colour of the tricolour, we want to revolutionise the saffron. Saffron Revolution means we need a revolution of energy."
Also read: Akhilesh Yadav adds 'Avengers' fever in Lok Sabha elections; predicts 'Endgame' for BJP in UP