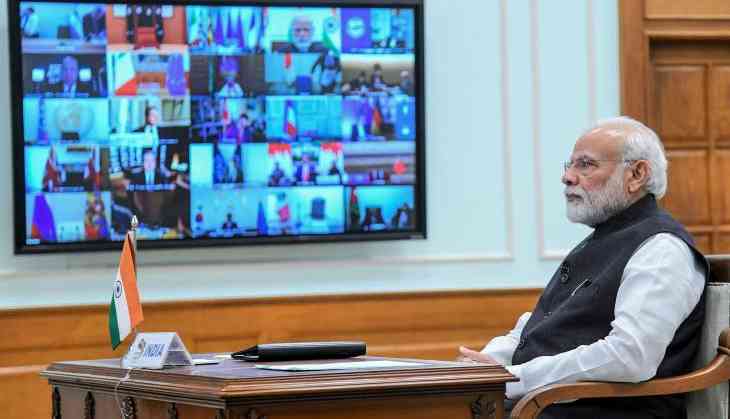 Maintaining social distance inside a large hall, Prime Minister Narendra Modi and some significant Union Ministers including Amit Shah and Rajnath Singh held a video-conference with the chief ministers of all states to talk through how they are acting in response to novel coronavirus threat.
The extremely contagious disease caused by coronavirus has claimed at least 50 lives in India so far – 12 of those deaths were reported in the last 24 hours. The number of people infected with SARS-CoV-2 rose to 1,965 today.
A novel virus is one that has not been previously found in humans. According to the World Health Organisation (WHO) this novel coronavirus can spread through respiratory droplets, so social distancing has been suggested.
During the video conference, the Prime Minister and the leaders talked about tracing the contacts of those who have been found infected with Covid-19 and sending positive cases to quarantine facilities.
Also Read: Coronavirus in India: Date for paying health, motor vehicle insurance premiums extended to April 21
Prime Minister Narendra Modi holds meeting with Chief Ministers via video conferencing, on #COVID19 situation in the country. Union Home Minister Amit Shah & Defence Minister Rajnath Singh also present. pic.twitter.com/L4RU00FQzQ

— ANI (@ANI) April 2, 2020
Union Health Secretary apprised dignitaries of rise in cases in India, the spread of cases from #NizamuddinMarkaz, preparations to tackle medical cases arising out of further spread of the virus: Prime Minister's Office on PM's meeting with Chief Ministers via video conferencing pic.twitter.com/DTSZzb2lHK

— ANI (@ANI) April 2, 2020
As stated by sources, they are expected to discuss the sudden rise in positive cases after hundreds took part in an Islamic sect meeting in Delhi's Nizamuddin, where many were found infected with coronavirus, and returned to their home states.
Arunachal Pradesh Chief Minister Pema Khandu tweeted people should practice caution even after the lockdown is finished.
This was PM Modi's second video conference with the state heads after coronavirus infections were first detected in India, and the first such meeting after the Prime Minister implemented a 21-day lockdown to curb the spread of the Covid-19.
All the states and Union Territories have mobilised resources and set up isolation centres to fight the coronavirus threat.
Also Read: Coronavirus: Chief of Nizamuddin Markaz Maulana Saad flees after FIR was lodged against him