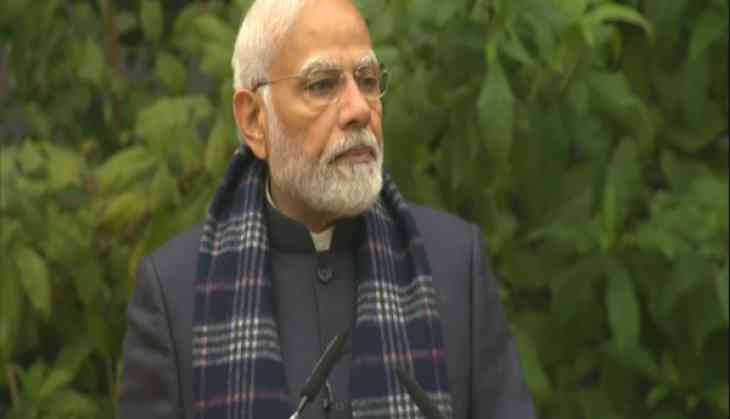 Condoling the deaths in the earthquake that shook Turkey and Syria, Prime Minister Narendra Modi on Tuesday turned emotional and recalled the 2001 Bhuj earthquake that claimed thousands of lives in Gujarat.
The PM turned emotional while addressing MPs at the Bharatiya Janata Party parliamentary party meeting held this morning ahead of the start of proceedings of the ongoing Budget Session of Parliament, according to sources.
He recalled the devastating 2001 Bhuj earthquake when he was the chief minister of Gujarat and spoke about the challenges posed for the rescue operations.
The Prime Minister also mentioned humanitarian assistance being provided by the Government of India to the disaster-hit country after a magnitude 7.8 quake rippled through both Turkey and Syria on Monday.
PM said he could very well relate to what Turkey was going through right now.In 2001, a massive earthquake jolted Bhuj in Gujarat's Kutch district in which more than 20,000 people were killed and over 1.5 lakh people were injured. The earthquake left thousands homeless.
At least 4,372 deaths have been confirmed and thousands were injured after a powerful magnitude 7.8 earthquake rocked Turkey and Syria early Monday, according to officials and agencies, according to officials and agencies. In Syria, 1,451 deaths and 3,531 injuries have been reported by officials.
Thousands of buildings collapsed in both countries and aid agencies are particularly worried about north-western Syria, where more than 4 million people were already relying on humanitarian assistance.
The quake, one of the strongest to hit the region in more than 100 years, struck 23 kilometres (14.2 miles) east of Nurdagi, in Turkey's Gaziantep province, at a depth of 24.1 kilometres (14.9 miles), the US Geological Survey said.
India has sent the National Disaster Response Force (NDRF) team to Turkey after earthquakes jolted Turkey and Syria on Monday.
The first Indian Air Force plane carrying disaster relief material and rescue team to support search and rescue efforts in Turkey arrived today in Adana in the earthquake-hit country, external affairs minister S Jaishankar said.
India will be sending two more C17 aircraft with Humanitarian Assistance and Disaster Relief (HADR) to quake-hit Turkey along with 60 Para Field Hospital and personnel.
The C17 flight with over 50 personnel from the National Disaster Response Force (NDRF) and a specially trained dog squad along with necessary equipment, including medical supplies, drilling machines and other equipment equired for the aid efforts had departed for Turkey early this morning.
Turkish Embassy in New Delhi tweeted: "First batch of earthquake relief material along with NDRF's special search and rescue teams and trained dog squads just arrived in Turkiye. Thank you India for your support and solidarity."
According to a statement released by the Prime Minister's Office (PMO) on Monday, a meeting was conducted where it was decided that the NDRF's search and rescue teams, medical teams, and relief supplies would be sent out right away in collaboration with the Turkish government.