The Maharashtra Rural Development Minister Pankaja Munde has issued an emotional statement on Facebook defending her Latur selfie. The BJP leader, who skipped a cabinet meeting today citing "heat stroke", said that the picture was being "twisted". 
Munde said the only reason she clicked the picture was "not out of excitement but satisfaction" at finding water in the parched land. She writes: "On Sunday, during my visit to Sai Bandhara on Manjara river, I was really to see water in a trench. So I clicked some photos of that trench with water and recorded work being carried out (normally I don't do this)." 
She goes on to add that she had clicked the picture on a day when the temperature touched 45 degree Celsius. "I had clicked that photo in 45 C simmering heat.. There was not excitement but just satisfaction to see some ray of hope.. Just to put truth in front of everyone hence this clarification. Daily spicy food is unbearable for both who prepares it and who eats it !," she writes.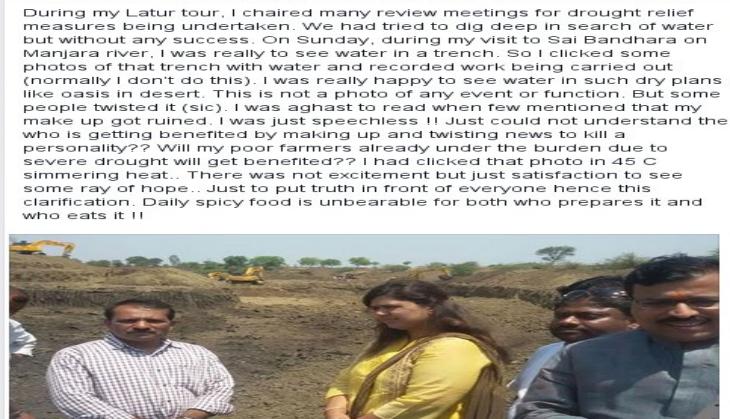 She also said that attempts were being made to "kill a personality" and expressed her hurt at people commenting on her makeup in the photo. "Will my poor farmers already under the burden due to severe drought will get benefited?", she questioned. 
Munde is the guardian minister for Beed and Latur -- the worst of all the drought-hit areas in Marathawad. She courted controversy for clicking selfies while conducting a review of water conservation measures being undertaken in the area.