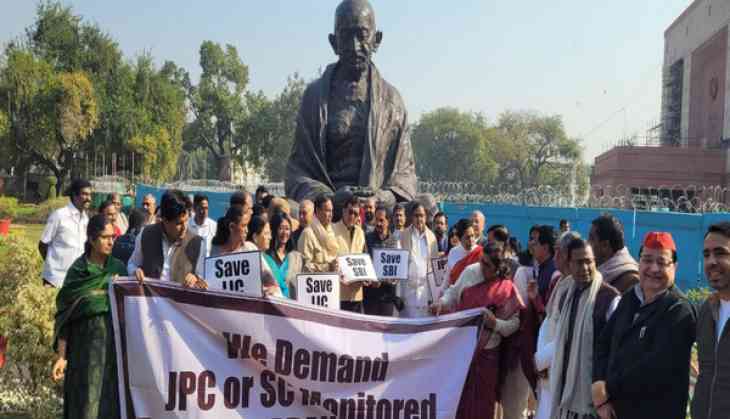 Opposition protests outside Parliament
Opposition parties on Monday protested near the Gandhi statue outside Parliament and demanded a Joint Parliament Committe investigation or Supreme Court-monitored probe into the Hindenburg-Adani row.
As per sources, opposition parties have decided that they will ask for an adjournment motion in both houses to discuss the issue.
"Opposition parties have decided to discuss no business other than the Adani issue in the parliament," sources said.
Opposition parties met in Leader of Opposition Mallikarjun Kharge's Chamber in Parliament to chalk out a strategy on Adani-Hindenburg row and other issues.
Those who participated in the meeting were Congress, DMK, NCP, BRS, JD(U), SP, CPM, CPI, Kerala Cong(Jose Mani), JMM, RLD, RSP, AAP, IUML, RJD and Shiv Sena.
A report by a US-based Hindenburg Research surfaced on January 24, claiming that the Adani Group had weak business fundamentals, and was involved in stock manipulation and accounting fraud, among others. The report triggered a sell-off of shares of all Adani Group companies. Meanwhile, Congress will launch a countrywide protest in front of Life Insurance Corporation (LIC) offices and State Bank of India (SBI) branches today to protest against the alleged Adani scam.
Although the Congress is getting the support of other Opposition parties on the Adani issue, it has to be seen whether the parties such as the Bharat Rashtra Samithi, Aam Aadmi Party and Trinamool Congress, which are seen together in the meetings, will join the Congress demonstration or extend moral support.
However, the Bahujan Samaj Party (BSP) and Janata Dal (Secular) have kept their distance from Congress on this issue. It is being argued by the Opposition that the investment of the Adani group in public sector banks such as the SBI and LIC has had a big impact on the savings of the middle class.
Opposition MPs said the government was not allowing the issue to be discussed in Parliament. After the uproar in Parliament, the proceedings of both Houses of Parliament were adjourned till February 6.