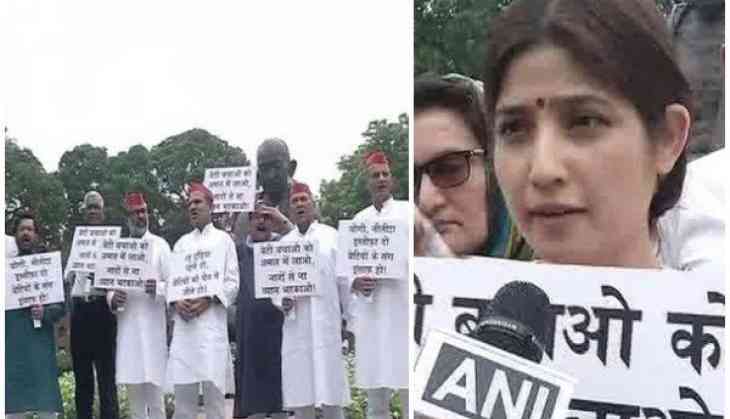 The Opposition leaders staged a protest on Tuesday in Parliament over alleged rape cases and ill-treatment of girls in Bihar's Muzaffarpur and Uttar Pradesh's Deoria districts shelter homes respectively.
Those who participated in the protest included members of Parliament (MPs) from the Rashtriya Janata Dal (RJD), the Samajwadi Party (SP) and the Communist Party of India (CPI).
SP MP Dimple Yadav was seen holding a placard which read 'Implement slogan of Save Girl' and raised slogans against the Bharatiya Janata Party (BJP)-led governments in Bihar and Uttar Pradesh over the safety of women. Yadav is wife of former UP chief minister Akhilesh Yadav.
Speaking to ANI, Dimple Yadav said, "Whosoever is responsible should be punished. Deoria is under Gorakhpur Mandal, so we want the government to reveal that who all are reponsible."
Leaders from SP, RJD and CPI raised slogans against Prime Minister Narendra Modi, UP Chief Minister Yogi Adityanath and Bihar Chief Minister Nitish Kumar over their failure in maintaining law and order in the two states and safety of women.
Several leaders from the Opposition such as Congress President Rahul Gandhi, Delhi Chief Minister and Aam Aadmi Party (AAP) supremo Arvind Kejriwal and RJD leader Tejashwi Yadav held a rally at Jantar Mantar in the national capital on Sunday to protest against the Muzaffarpur shelter home alleged rapes.
The alleged Muzaffarpur shelter home rape case has put Nitish Kumar government in Bihar under the spotlight. So far, 11 employees of the shelter home have been arrested and 44 girls rescued. The shelter home was run by Brajesh Thakur, the prime accused in the case who is behind bars now. The Central Bureau of Investigation (CBI) has taken charge of the case now.
In the Deoria shelter home case, the Uttar Pradesh police on Sunday arrested a couple and rescued 24 girls from there after an inmate escaped and informed the police about the alleged ill-treatment meted out to them. She complained that the inmates of the shelter home were treated like servants.
Both the man and his wife were managers at the shelter home. Earlier, the CBI had revoked the license of the shelter home following an inspection.
--ANI